In a relationship, the main thing is to know the "art" of arguing. 
What can God do in your life with one Bible verse a day?
Subscribe to Aleteia's new service and bring Scripture into your morning:
Just one verse each day.
Click to bring God's word to your inbox
Arguments are a part of married life. They're mainly caused by differences in personality, education, lifestyle, and preferences,, but it's still possible to manage these daily tensions. Contrary to what many people believe, arguing is not a sign of failure. You can love someone and still have arguments. In fact, arguments are a way that we attempt to rid ourselves of old resentments and bottled-up frustrations; they give us a chance to say that our relationship needs to change.
Here are some secrets to the art of arguing, shared by husband and wife psychotherapists Serge and Carolle Vidal-Graf:
Can we avoid getting angry when we argue? 
You can never remain cool-headed when you're arguing, because there is an emotional component — anger. It's a sign that something isn't working. The "I" emerges and claims that it's not satisfied. To be angry is to say this with a sense of resentment. The emotions don't necessarily have to translate into screaming or violence, however.
What is the use of anger?
Anger enjoys a bad reputation. Yet, it is a formidable and vibrant energy. It allows you to wipe the slate clean. The frustrations of people who never argue run high. They're like a pressure cooker that no one has opened for a year — the pressure mounts and explodes. The frustrations you keep bottled up are like a wound left unclean, which begins to fester. To avoid this kind of explosion, it's better to manifest your frustrations, your dislikes from time to time – loud and clear, but without violence.
Anger allows you to examine your relationship and begin a negotiation that should lead to mutually satisfying results. Anger is a gift for a couple; it indicates that a couple values their relationship and that both partners are not indifferent.
Why does anger frighten us so much?
Because people confuse anger with violence. We have all experienced fits of violent anger on the part of a parent or a boss with a mercurial temper who may have become verbally or physically abusive. As a result we often think "If this is anger, no, thanks. I don't want to do anything with it."
Perhaps from the early childhood, our parents used to send us to our room with the following words: "I really hate it when you cry, if you only could see what you look like!" In order to preserve the love of our parents, we had to keep everything inside. This is how the idea that love and anger are incompatible took roots.
How should we express our anger?
When you study the techniques of non-violent communication, you learn the importance of saying "I" instead of "you." It is capital – to speak of yourself, of the way you feel, instead of hurling accusations at the other. It's all the more important because our anger often has the objective of helping us affirm ourselves in the face of the other.
Another objective is to stay on the subject instead of globally reproaching your partner's failings and criticizing him or her. Since you know your partner well, you know exactly how to hurt them; it would be preferable to stop beforehand. This includes abstaining from vengeance when your partner has hurt you. Learning how to argue is a real lesson in humility.
After an argument, should you quietly examine the problem?
This is a very practical thing to do, if anger was not enough to quell the conflict. Of course, you have to take time for everyone to calm down. The real difficulty is to swallow your pride and turn to your partner after the argument. Each must take his turn to talk, for as long as he or she needs, without being interrupted. You can stop, pause, and continue your conversation. Once you have finished, you can let your partner know. And he can take his turn to talk, without necessarily answering you, but in letting you know how he feels.
It's a difficult exercise. It has the merit of avoiding pointless arguments and fights. It allows you to calmly explain yourself and to go beyond pointing fingers to love. Blaming your partner puts him on a defensive, expressing how you feel will touch him. You need to have these moments when you listen to each other in respecting the pace of each one, not just as an aftermath of a conflict. These regular sessions will allow you to converse in a positive fashion.
And what about compromising?
This is the most unusual method of all that you have at your disposal. It shows that you don't need to have a winner and a loser in a conflict. It also needs to be done with a cool head: you see your partner a few hours after your argument and propose an arrangement where each has to give up on something so that the both of you can gain something. The advantage of such compromise is that each of you gets an opportunity to express his or her needs; be heard and understood. It's an excellent way to learn how to exist as an individual and to cultivate your relationship.
Are constant arguments a sign of a deeper conflict?
What should alert you is the rate at which they occur. They show the tensions and underlying problems — for example things that go back a childhood and have never been resolved. Frequent arguments are a warning sign that perhaps you two need to come to a decision, to seriously go over your choices, such as having a child, changing your career – so many situations, which if left suspended could poison the relationship.
When one of the partners is more hot-tempered than the other, which direction can their arguments take?
Anger is a basic emotion none of us can avoid. The person who does not "get angry" is someone who rejects anger, often because he or she confuses it with violence. Without realizing it, this kind of person transforms this anger into guilt — "I should not have" — or into disappointment — "How could you be so cruel?" Such people do not know how to express their anger. So they can keep on making gaffes to push their more hot-tempered partner into conflict and use his anger to complain and unload their resentments on him or her. It represents a huge effort for such people to express their emotions, hence the need to hear them out and make them say how they feel.
How important is it to ask for forgiveness?
It is vital that you believe you can fix your relationship. When you hurt someone, you should instantly ask forgiveness. Even if the pain you have caused is not intentional, your partner has been hurt. Sometimes, words are not enough; it all depends on how deeply you have hurt them. You have to then seek reconciliation based on concrete actions, invite your partner to a restaurant, buy some flowers, or organize a Sunday outing that he or she would enjoy.
Florence Brière-Loth
Read more:
11 Ways to manage your children's arguments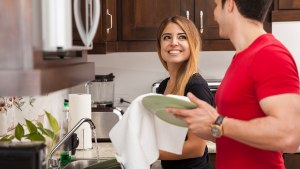 Read more:
How dividing up the household duties can help keep harmony in your marriage