The perfection we should be most mindful of is mercy.
What can God do in your life with one Bible verse a day?
Subscribe to Aleteia's new service and bring Scripture into your morning:
Just one verse each day.
Click to bring God's word to your inbox
Everybody wants to be an exemplary parent and offer the very best to his or her children. In reality, we are all far from perfect, subject to our own limitations. On occasion we've all made mistakes and haven't done right by our kids. On the whole, there is a big difference between the person we want to be and the person we actually are. To offer an ideal image of themselves and their families, some people try to appear perfect, concealing or denying their failings. Jesus calls on all of us to become perfect: "Be perfect, therefore, as your heavenly Father is perfect" (Matt. 5:48). But he means spiritual perfection. We should all strive to be as perfect as the Father, in other words, to follow his example.
Striving to be an exemplary parent at all costs
The perfection we should be most mindful of is mercy. It consists in possessing an infinitely forgiving heart that loves everyone beyond measure, including our worst enemies.But this also requires that we begin by accepting mercy toward ourselves. Jesus is not asking us to become saints, but sinners who feel the need to be healed and saved.
He did not come for "exemplary parents," who impress everyone with their virtues, as perhaps we ourselves have been tempted to do at one point or another. For example, there is a very subtle and lethal way of showing our family how admirable, devoted and righteous we are for tolerating their numerous failings. "Perfect" caregivers are both unbearable and demoralizing. But, shouldn't we all strive to be better parents? Certainly, but not at any cost and not on any condition. Our purpose in life is not to win a prize for excellence; but to grow in love of God and others and be saved. So, we must recognize our sins and joyfully accept our salvation.
If we wish to be exemplary, to prove to everyone, including ourselves, that we lead a righteous life, we risk forgetting about the mercy and the joy of salvation. We might perform many good deeds, but they won't have anything to do with God. We will become as hard-hearted as the Pharisees in the New Testament.
The best parents are those who put their trust in the Lord
So let us rejoice that we are not "perfect", that we need the mercy of God and of those around us. This does not mean that we should be content with our flaws, quite on the contrary. If we have truly accepted mercy, we will give the best of ourselves, not for the sake of impressing anyone, but simply out of love. If we rely on mercy, we won't conceal our flaws, but humbly accept them and ask God, our spouse, and perhaps eventually our children, to forgive us.
The best parents are those who walk in the footsteps of Christ. They realize that they are flawed and rejoice in His mercy. They don't beat their breasts to save the appearances or worry about "what people might say." They do not disguise their failings, but place all their trust in the Lord, who has come to save "the lost" (Luke 19:10).
Christine Ponsard
Read more:
5 Essential parenting skills no one tells you about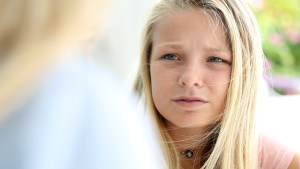 Read more:
Why parents of teens should mean what they say