Whether you're a manager of a company or an employee your faith can be part of your professional life.
What can God do in your life with one Bible verse a day?
Subscribe to Aleteia's new service and bring Scripture into your morning:
Just one verse each day.
Click to bring God's word to your inbox
Reconciling your Christian faith and your workplace responsibilities, with all its demands and challenges, is difficult — but possible. Christian coach Alain Setton shares how to succeed professionally with Christian values.
Can Christian values be an obstacle to professional life?
On the contrary, they're a guarantee of success and of the future values of a company. Faith improves life. It gives meaning to life, to our trials and conflicts. They're a grounding that transforms and gives us spiritual growth. Like the shepherd's star, biblical values help to better manage one's relationships and work life.
When money, not man, becomes the goal of business, mammon is power. I'm not advocating loss-making companies, but we mustn't let profit make us lose sight of the essential: people. We need to find the right balance. I meet bosses of small and medium companies who are keen to communicate with their staff and share the profits. The more a business grows, the more this can be challenging. Professional life can only benefit from wisdom — and what is more solid than divine wisdom?
But business still has its imperatives: strategy, success, efficiency. How do we reconcile them with Christian ideals?
"Render unto Caesar what belongs to Caesar." It's up to us to manage the visible world, and to do so we must be clever. Jesus may have reproached "the children of light" as being less clever than "children of the world." But recognizing Caesar's existence isn't an invitation to neglect our spiritual dimension.
The main thing is to discern the difference between our ego and our deep aspirations as children of God. A Christian has an advantage: he seeks to be sensitive to the spiritual dimension. It's this point of reference that allows him to keep things in proportion. When we ignore this star, the soul withers, and many suffer from this today, particularly the young. Cut off from what's most important, they're like fish struggling to survive in polluted waters.
How can we speak honestly without disrespect or undermining others?
Businesses would benefit from developing an "adult-adult" relationship, a dialogue of equals rather than one that leads to a hierarchical "parent-child" scenario. Speaking directly, simply, and sympathetically can be learned. Such a relationship of confidence will prove more "win-win," responsible, and, in short, more Christian.
Aiming for a better position, a higher salary, a more interesting job … are these signs of motivation or of jealousy?
The desire to progress is an eminently reasonable motivating force: we should develop our talents. It would be very wrong to bury them! "The barren fig tree will be chopped down and thrown in the fire …" The business world ought to be the arena par excellence where aptitudes, technical mastery, and interpersonal skills can grow. A criterion for distinguishing between the desire to progress and jealousy: the former motivates one to move forward, while the latter makes one go round in circles. It's up to us to transform a sterile desire into learning.
What role does humility play when it often seems that "loud mouths" and those who push themselves forward get rewarded?
Perhaps you've heard the expression, "the higher a monkey climbs, the more it bares its behind"! Such people risk displaying an inflated ego that quickly reveals their limitations. They're not necessarily the most interesting or the most listened to. Humility doesn't mean running yourself or your successes down, or a lack of confidence in your abilities. True humility is the capacity to question yourself, to listen to others, to observe and analyze, without the encumbrance of your ego. It's an asset in private life as well as in business.
Some corporate cultures exert tacit, negative pressures, like competing over who works longer hours. How can we reconcile work with family life without looking like a slacker?
The nub of the problem is not to become a prisoner of the message to conform. You must take responsibility for your own freedom. Jesus remains the supreme model for social behavior: he never followed the model of conformity. He affirmed his identity with force and simplicity.
Our responsibility is to discern what's essential. Staying at the office till 9:00 p.m. to be like your workaholic colleagues can have far-reaching consequences.
The Gospels calls us to proclaim the Kingdom. How do we witness to our faith in the workplace?
It calls for a progressive, highly sensitive response. Most of the time, proselytism rubs people up the wrong way and leads to rejection. Witness therefore is best communicated through our quality of being, the coherence of our values, our sense of service, of respect, the appreciation of our neighbors, and of benevolence — in a word, in one's capacity to love. Love that grows deeper every day. You can act as the leaven in the dough wherever you are. If we ally ourselves to Jesus, He can help us perform miracles. On the condition that we have faith.
Stéphanie Combe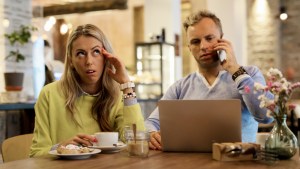 Read more:
Is your spouse a workaholic? Here's how to keep that from affecting your marriage
Read more:
God at the workplace: More U.S. businesses are encouraging religious expression