Can we actually bless everything around us, including animals?
What can God do in your life with one Bible verse a day?
Subscribe to Aleteia's new service and bring Scripture into your morning:
Just one verse each day.
Click to bring God's word to your inbox
There are two kinds of blessings. The first is God's blessing of his creation, as told in the book of Genesis. At each stage of the creative process, the Almighty contemplated the beings born of his love and wisdom – "and He saw that it was good" (Gen. 1:10). All of creation is blessed first by having been made by the Creator.
Later, human beings became even more blessed, because we were re-made: God "has blessed us in the heavenly realms with every spiritual blessing in Christ" (Eph 1:3).
In this sense, "blessing" a creature, an object, or our various undertakings is placing them in the grace of God. Parents gladly give their blessing to their children. The Book of Blessings contains beautiful texts to bless an engagement, newlyweds, a family, a group of pilgrims. People can also have religious objects like a cross or a statue blessed, as well as a house, a car, and yes, even other living creatures like our four-legged friends.
Distinguishing between a blessing of animals and a baptism
This first type of blessing calls on another, which is destined for God. We must give thanks to the one who has blessed us. This is the whole meaning of sacrifices that we find in the Old Covenant. Symbolically, it means that all everything has been given to us and that all of it must be returned to its original source and placed in its true perspective. This has been most perfectly fulfilled in the sacrifice of Christ. "Jesus knew that the hour had come for him to leave this world and go to the Father" (John. 13:1).  So, he transformed his life and his death into "Eucharist" as an expression of gratitude to his Father.
When the Apostle Paul exhorts us to offer our very person and our very life in "a living sacrifice, holy and pleasing to God," he calls us to become true worshipers, transforming our existence into a blessing. This is how we should understand the "hallowed be Thy name" in Our Father. This is not a pious wish; it is a pledge to change all aspects of our existence into a celebration to the glory of God.
This includes the animal world. The Canticle Of the Three Youths invites us to praise the heavens, the earth, the beasts, the cattle, the fish in the sea, and the birds in the sky (Dan. 3:51-90). St. Francis of Assisi echoes this in his Canticle of the Creatures and even more so in his Sermon to the Birds, as well as in his dialogues with sister cicada and brother wolf. All this is very Christian, but we should not confuse a benediction with a baptism.
A baptism, the pouring of water and the pronouncement of the Trinitarian formula (I baptize you in the name of the Father, and of the Son, and of the Holy Spirit), is possible only for a soul made in the image and likeness of God.
At baptism the Holy Trinity comes and makes the rational soul its dwelling place, endowing the newly baptized Christian with every grace and spiritual blessing. This total conformity to Christ, an opening to participation in the very Godhead through Jesus Christ, is possible only for humanity.
Father Alain Bandelier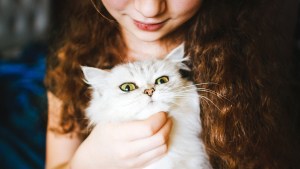 Read more:
6 Ways pets are good for your health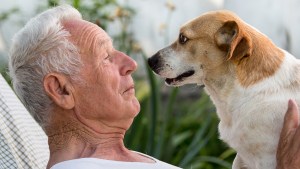 Read more:
5 Ways that dogs make life better … according to the Bible