You can plant the seeds of faith in your children from the time you learn that you're pregnant.
What can God do in your life with one Bible verse a day?
Subscribe to Aleteia's new service and bring Scripture into your morning:
Just one verse each day.
Click to bring God's word to your inbox
People often compare the spiritual education of little ones to planting seeds in their hearts. But can we do the same for those who have not been born yet, while the slow process of forming their bodies, their minds and souls is still taking place?
The fragile, tiny fetus has long provoked our curiosity. Obstetricians and scientists have proved that it is not an extension of its mother's body but a real, distinct individual. Its sensitivity, memory, and nervous systems function in a state of total autonomy.But the fetus is both distinct and totally dependent on its mother, including her impressions, emotions, fears, and joys. There exists a proven interaction between the two from the very beginning, even on a spiritual level.
When prayer can bring peace and a sense of serenity
The Fathers of the Church tell us, "Throughout the term of pregnancy, the mother and the child are soul to soul and this for nine months."It is the best time to expose the future infant to the spiritual life that awaits him after baptism.
Jen, a young mother of three, is pregnant and often takes the time to thank the Lord and introduce her future baby to Him."My baby's soul is attuned to how I feel," says Jen.
What better sense of balance can we contribute to a child's psyche than the serenity brought on by prayer? The Virgin Mary, who carried Jesus in the state of contemplation in her womb, is a good intercessor, for women who seek more calm. The period of pregnancy can be seen as something of an advent, a time of quiet joy.
Chanting hymns is good for a baby
Life is passed on through joy, so it is a wonderful thing for a heart of a new mother to be filled with a profound sense of happiness and fulfillment. It is important that this is shared by both parents. This time of waiting should be spent in prayer.
While she was pregnant with her two girls, Madeline spent a lot of time in prayer, especially ask for the Virgin Mary's guidance. "Instinctively, you pray more during this time, because you are caught up in the mystery of life," she explains.
We can also awaken the soul of a future child with music. This can be done around the sixth month of pregnancy, once the child's inner ear has developed.
Throughout her pregnancies, Madeline listened to classical music, especially to Gregorian chant. Its slow rhythm is similar to the beat of a baby's heart. At prayer time, the young woman and her husband sung hymns that both of their daughters were later able to recognize. Although children can't capture the meaning of words, the sense of peace and grace contained in these chants leaves a deep impression on them forever.
Florence Brière-Loth
Read more:
Pregnancy in art: A fascinating glimpse into depictions of the gift of life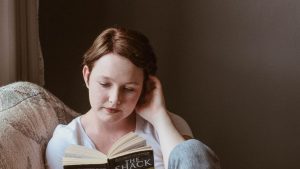 Read more:
The exhausted mom's guide to reading books