With memory loss comes difficulty in communicating -- not only with loved ones, but also with the Lord.
The loss of short-term memory, changes in behavior, and marked emotional shifts due to a loss of inhibitions are all typical symptoms of Alzheimer's disease. Loved ones are then faced with many questions, including those that are faith-related: How can I help my loved one keep their spiritual bearings? Here's some advice from Dr. Eric Kiledjian, geriatrician and Alzheimer's specialist:
What does the person with Alzheimer's need?
Dr. Eric Kiledjian: The basics. The attention of others, especially their loved ones, and to be treated with respect. The person is rapidly confronted by a personality fragmentation. For example, when they're having a meal with their children and grandchildren and no one speaks to them. In this particular case, you can place your hand on theirs, look them in the eyes, ask if they're enjoying their food, how they're feeling. Without bombarding them with questions, it's important to affirm their presence, that they exist.
Basically, above all what the person needs is trust. Of course, we tend to avoid trusting them because they forget everything and do silly things. But just because they're unpredictable doesn't mean we have to lose all trust in them. We often see this in certain families that try to — and I'm not exaggerating — just "par"' the person with Alzheimer's somewhere, when it might be better just to keep them away from dangerous objects.
I keep telling families they should encourage without harassing. Did the person used to like doing crossword puzzles but can't manage them anymore? If they still enjoy it, do it with them. That will give them pleasure. On the other hand, on the pretext of stimulating their memory, making them read a newspaper article and then quizzing them on it is doomed to failure. If there's no pleasure in it, don't do it. Care givers and family members have a key role to play: a caring, warm, and reassuring circle around them is the best medicine.
What does the person with Alzheimer's experience on a spiritual level?
That's clearly a big mystery. But there are indications that suggest there's a lot going on. For example, as self-control diminishes, some people, even when they can't remember their date of birth, can spontaneously start reciting the Our Father. There's a clear indication that through these prayers learned in childhood there remains a sensitivity to the divine.
However, the person with Alzheimer's perceives God less and less well. That's where the role of their loved ones comes in. As the person's autonomy lessens — right down to their relationship with God — their loved ones play the role of tutor. In the same way that helping them wash themselves encourages the person to copy gestures they struggle to do themselves, we can do the same with prayer. I'm referring here to a spiritual support that can be communicated through the most simple things: reciting a prayer, singing a hymn, lighting a candle, making the sign of the cross.
Can we really talk about the spiritual life?
Of course, and now more than ever! The disease erases a number of filters, such as rationality. As a result, our desires — including spiritual ones — become uninhibited. This spiritual aspiration is clearly present. They may not exclaim, "I need to be loved!" but their behavior (anxiety, cries, fearful looks) can manifest this need. If certain forms of religious practice fall by the wayside, the spiritual instinct itself lives on.
Who can accompany the person with Alzheimer's in their spiritual life?
In my experience, that's more or less the responsibility of the family. Unfortunately, the person gradually stops attending gatherings and loses contact with their community, parish or otherwise. The family circle — the spouse, the children — must then take the initiative with private prayers. Besides a Mass celebrated at home or a visit from an Extraordinary Minister of Holy Communion, a brief but meaningful moment can be organized to maintain the link with God. Priests sensitive to the illness are often good at ways to accompany this spiritual life. I'm thinking in particular of the Anointing of the Sick, which can be a beautiful interpersonal act. After the death of a loved one, relatives have often told me how they regularly recited the Our Father together as the illness progressed. And they all tell me how much they could feel their loved one's joy.
How can I help a person with Alzheimer's on a spiritual level?
The spiritual needs of people in good health involve all sorts of activities and choices: meeting friends at Mass, going to another parish that suits them better, etc. For those with Alzheimer's, their needs are much simpler, more straightforward. But love is prime. So much so that, even if it's from a professional caregiver, it's just as helpful as if it came from a family member. That often shocks loved ones who feel a kind of emotional competition — and yet, it's true. Gradually, the person doesn't know quite who they are anymore; it's the attention and contact with others that sustains their existence. That may be more a question of emotional need, but it's linked to a spiritual need. God created us as composite beings, in a relationship to him with our whole person: emotional, spiritual, psychological. That's why he counts on us to sustain them all.
The loved one acts as a kind of mediator between God and the person with Alzheimer's, reassuring them that they still exist in the eyes of God. It's their responsibility to encourage the person on the spiritual level. It would be a mistake to wait for your loved one to take the initiative. God is present wherever there is empathy and self-giving. One way of drawing the person onto spiritual ground is to make time for them: giving of oneself is a way of making God's presence felt to the person.
As soon as one is caring and attentive, one becomes a spiritual mediator. When it concerns a believer, we need to take the initiative and put things into words, to speak about God. It can be very simple: for example, by asking, "Would you like us to say the Our Father together?" But be careful the question doesn't communicate any anxiety on your part. Some spouses go a little too far: through concern that their spouse no longer prays, they try to force them to go to Mass. Spiritual mediation must always remain benevolent.
I should also emphasize that the caregiver needs to know how to recharge their own batteries if they're to be a source of support. Living with this disease is a very heavy burden to bear. And no one gets through it alone. One of the best things we all can do for people with Alzheimer's is to provide support for their family members and caregivers.
Interview by Anna Latron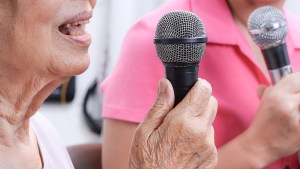 Read more:
How music can bring those with Alzheimer's back to reality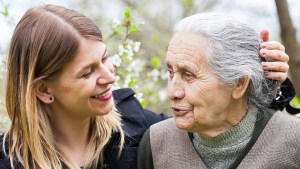 Read more:
This is the virtue every Alzheimer's disease caregiver needs