It's not easy being the oldest. Here's how you can help to make it a blessed role in the family.
What can God do in your life with one Bible verse a day?
Subscribe to Aleteia's new service and bring Scripture into your morning:
Just one verse each day.
Click to bring God's word to your inbox
Most first-born are proud of their position, which comes with certain privileges.Physical size and age give a child advantages over their younger siblings. His or her birth was eagerly awaited and greeted with immense joy, and even long after leaving home, they still serve as example for the others.
But temperament is not solely determined by birth order — it is the role parents attribute to their first-born that actually shapes his or her character.
The first common trait of many first-born is a sense of anxiety. It can be easily explained by the apprehensions of young parents throughout the first pregnancy, which they pass on to their child. Laura's oldest son, Christopher, is a very anxious child:"He needs to be reassured all the time. When I was pregnant, I remember feeling both excited and worried. I used to fret over nothing.I thought if I move, I would hurt him. Of all my children, he was the one who cried the most."
First-born are also very astute. Parents try to give them every positive experience they had and everything they were deprived of. This tends to put a lot of pressure on children and accounts for their serious introverted natures and cautious attitude. The first-born child tends to conform to the image projected by his parents. "Even before the first child comes into existence," observes Jean-Marie Brossard, a French psychologist for children, "parents have projects for him. He is often taken for someone who will remedy the failure of one of his parents."
Others remark on the acute sensitivity of an oldest child. The first of his siblings, he suffers from daily mishaps with particular intensity.
Claire, a first-born married to a first-born, knows what she's talking about: "The feelings of a first-born child are very complicated; no doubt, this is due to the particular attention of the parents. Parents learn with him and make many mistakes." This acute sensitivity often worries the mother and provokes her desire to protect the child who bears the weight of this anxiety. This is what Claire noticed with her own son, Ben. "He's realized that I am protective of him so he does not tell me about his problems." 
Expecting too much
Parents want to brag about their first-born, expecting them to be perfect.They may inflict too many activities on the first-born, without giving them the chance to discover what they actually want. With a first child, parents are still working on their parenting style and methods. Either they have read something or are reacting to how their own parents raised them. The child feels their hesitations, especially if to calm their own anxieties, parents resort to arguing. For a child, this behavior is a source of anxiety.
There is even more pressure if the child is also the first grandchild. The weight of ambitions centered on him doubles, making his task even harder. When both parents are young, grandparents, who want to help, actively manifest their presence.This kind of situation is a double edged-sword. Grandparents need to show some restraint instead of placing themselves between the parents and the child.
The arrival of a first child makes parents confront their own childhoods, bringing back a host of memories. This can manifest itself in the lack of empathy for one's own child in a situation where the parent was previously shown none. The birth of the first-born is often a time of internal healing, but at a price of great stress for the child.
Excessive responsibilities
There are other pitfalls to avoid. The biggest temptation parents have is to saddle their oldest child with too much responsibility: for example, the oldest daughter forced into the role of a second mom. Violence and rage from a first-born child can often be explained by the excessive demands of the parents. Unable to confront them, the child lashes out at his or her younger siblings.
As parents we should ask ourselves what kind of example we give. We must trust our first-born child and give him responsibilities that will make him feel empowered. Instead of constantly barking orders and asking him to set an example, it will be better to highlight his or her positive qualities. This can better help the child become his true self.
The right to be different
It is important for the first-born to know that his parents love him, even if his tastes are different from theirs. Very early on, the child must become aware of his right to be different, to be himself. "This is very liberating for the oldest child," says Olivia, the mother of three. "We can help him realize that in doing what he likes, he can go very far."
Eager to please his parents, Michael always did what they asked. "The problem was that as soon as one objective was reached, they instantly found another one," he recalls, "I had the impression that life was an obstacle course and that I would never be good enough." This attitude was replicated in his relationship with God. To please Him, Michael multiplied his spiritual efforts, while feeling that he could never satisfy this demanding deity. It is always possible to make the child obey, even if our demands are excessive, but it will be at the risk of his never learning how to make his own choices.
Turning the first-born's position into an advantage
It happens that some fathers or mothers mistake their first-born for a confidant, unloading their problems on a child, because they have no one else to talk to. Without a capacity to reason like an adult, the child is asked to deal with issues he can't understand. It's stealing his childhood. We must let children be children.
Empowering the oldest child is to acknowledge his status as the first-born. To offset the responsibilities, we must give him the opportunities to affirm himself.  Once he realizes that he is respected, he will feel free to be himself. We can let him to go to bed a little later and take the time to talk to him one on one. The same can be achieved through praising. "You should never forget to praise your first-born child," advises John Page, a dad and a retired high school principal, "You're placing such huge demands on him; you should show him your admiration."
Florence Brière-Loth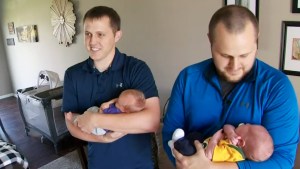 Read more:
Twin brothers welcome newborn sons on the same day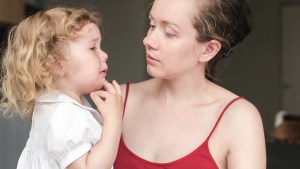 Read more:
3 Essential elements for effective parenting