The Church venerates many saints whose charisms can be of great help to those who want harmony and peace in their family no matter what happens.
What can God do in your life with one Bible verse a day?
Subscribe to Aleteia's new service and bring Scripture into your morning:
Just one verse each day.
Click to bring God's word to your inbox
Misbehaving children, an overbearing mother-in-law, a stressed-out husband, school exams … To deal with these kind of daily ordeals, every family needs patron saints they can turn to for support. From St. Spyridon to St. Matilda by way of St. Amable, here's a snapshot of saints you can pray to alone or as a family.
St. Frances of Rome (March 9)
To deal with a difficult mother-in-law, look to St. Frances of Rome (1384-1440) who had to put up with her own mother-in-law for 40 years.
St. Matilda of Ringelheim (March 14)
With everything her son Augustine put her through, St. Monica is often invoked by moms, but don't forget to call on St. Matilda (896-968) as well. The wife of the Germanic King Henry the Fowler, once she was widowed her sons completely ruined her.
St. Ambrose Sansedoni (March 20)
To combat pre-exam nerves, take a deep breath and call on St. Ambrose of Siena (1220-1286), the friend of Thomas Aquinas. It is said he had an answer for everything.
St. Gontrand (March 28)
In moments of family quarrels, call on St. Gontrand (532-592). The king of Burgundy, throughout his life he never ceased seeking to restore peace between his brothers and his nephews continually at war with another.
St. William Firmatus (April 24)
Children who have trouble sharing should pray to St. William (1026-1103). A doctor from Tours, France, he amassed a large fortune. One night, thinking he'd heard a noise in the house, he tiptoed downstairs only to see the devil sleeping on his treasure chest. The next day, he gave all of his possessions away to the poor and entered the Abbey of Savigny.
St. Arsene of Scete (May 8)
In addition to their guardian angels and St. Nicholas, patron saint of schoolchildren, kids can pray to St. Arsene (350-449), tutor to the sons of Emperor Theodosius the Great, who managed to instill a taste for learning in his stubborn charges.
St. Cassian of Imola (August 13)
Fraught parents can invoke St. Cassian (240-303). This schoolmaster was condemned to martyrdom for refusing to worship idols. The judge ordered his students to stab him to death with their stylus pens.
St. Giles the Hermit (September 1)
Children will drift peacefully asleep under the watchful gaze of St. Giles (640-720), invoked against fear and nightmares. This hermit who lived many long years in the depths of a forest knew the fears of nights spent in the darkness of nature.
St. Adelphus of Remiremont (September 11)
If children are the source of worry for their parents, they should entrust themselves to St. Adelphus. This wise 7th-century abbot of the Monastery of Habendum is renowned for leading many delinquents back onto the straight and narrow path.
St. Spyridon of Trimythous (December 12)
To get your early-bird chorus of children to pipe down, turn to St. Spyridon (270-348), Bishop of Cyprus. When his choir was basking in pride about their church organ, with one sign of the cross, he rendered them mute.
Read more:
5 Saints show us how to balance work and family life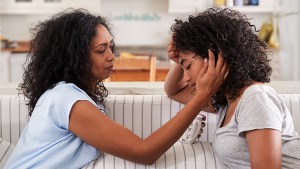 Read more:
8 Motherly saints to turn to when family life gets tough