It's an important stage in life, and preparing for it will help ensure it's deeply meaningful.
What can God do in your life with one Bible verse a day?
Subscribe to Aleteia's new service and bring Scripture into your morning:
Just one verse each day.
Click to bring God's word to your inbox
We live in a society obsessed with efficiency and profits, so it's natural that the end of our professional lives can pose an identity crisis.How can we prevent feelings of uselessness after we've given so much to our work?
Retirement is an important stage in life. The page has been turned, exposing us both to new opportunities and a fear of the unknown that might leave a person feeling depressed. So, it's vital that instead of feeling dejected, we work on ourselves.
Grieve and move on
In her book Au plaisir des grand-parents, the French psychologist Geneviève de Taisne explains: "You need to ask yourself: How I can occupy my life? What can I do to make it meaningful? You need to go through a grieving process, for your former career, your former social status and your former self. After a certain age, people should be able to find a reason to keep on living."
So, the grieving process is a crucial step; one must die to be reborn. "I had hard time doing nothing," says Frank, who has finally rediscovered the sense of serenity after two years of severe depression. "Luckily, Sally, my wife, was here to help me let go of the past and look to the future." A spouse in danger of becoming depressed needs a kind ear and support as never before. It's an additional reason to plan for the end of professional life together.
Finding new activities
"I still have things to give," asserts Robert, who is about to retire. As the due date is drawing closer, he has already thought up a few projects. "Staying home and twiddling my thumbs is out of the question! I need to be active." His wife adds, "We agree on this much, each needs his vital space!" With no professional worries or family obligations, couples can finally enjoy the freedom they deserve. Each couple greets this liberation in its own way:some become intoxicated and use it selfishly; others see it as an opportunity to discover together a new way of existing. A certain period of confusion might follow, as each tries adjusting his or her pace before the new start.
Personal tastes should be taken into consideration. Laura, who lives in retirement with her husband Bernard, says with some regret, "I quickly realized that Bernard was not interested in my activities. He came with me once or twice to make me happy but that was it!" Today, he has thrown himself into working for an association helping convicts and feels so passionate about it that his wife feels somewhat left out.
So, what are our plans for retirement? Each couple should carefully consider this question.There is a danger of getting involved in too many activities and the danger of doing nothing.
Consecrating time to family
Many retired grandparents consecrate their time to grandchildren, creating a strong intergenerational bond. George and Monica spend all their free time with their tribe – five children, 10 grandchildren, and George's parents, who live in the same town. But it is a tough balancing act – finding time for everyone is not easy. "On Mondays, we have all the cousins so they can get to know each other better," explains George, "We have to juggle helping my parents with spending time with our kids and grandkids.It's hard …but also really rewarding."
Longer life expectancy also has its downside. While caring for their elderly parents who live under their roof, some couples also dedicate time to their grandchildren and lend a hand to their kids. They are crushed by the weight of all these responsibilities. "We don't have a minute to ourselves," complains Jocelyn, who is literally torn between the members of her family. There is her divorced daughter and her father in a nursing home on the other end of town – she has to run from one to another. Fortunately for her, she is helped by her husband. It is not easy to enjoy retirement in such context. But in the right conditions, retirement can contribute to peace and harmony for the whole family.
Time for spiritual life
Retirement revives the spiritual dimension that was significantly reduced by hectic schedules. Some couples become involved in parish life: participating in Masses, organizing formation and prayer groups. They restore to prayer the place previously taken up by professional and family duties. "We have more time for Faith," say Larry and Martha, who have gone on a pilgrimage to Jerusalem. Years have gone by and they have grown more spiritual. The leisure time offered by retirement can procure many joys, but they will never quench the thirst for this "extra something," beyond our humanity. In the twilight of our years, this spiritual yearning attains new depths.
Thanking God together for our family, praising Him for the path we've traveled, placing our grievances and problems at his feet is a graceful way of attesting our love. Could there be any better example for younger generations than two older people united in prayer? The Holy Spirit is the driving force behind this spiritual renaissance. It purifies, sanctifies, and ensures a real dialogue between spouses. "Retirement is like a river flowing into an ocean. Gradually it is purified and becomes more transparent," says Larry.
Pascale Albier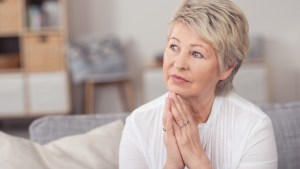 Read more:
Daunted by the prospect of retirement? Here's a prayer for you
Read more:
How to make your marriage stronger after retirement