The consequences of unemployment can be devastating for a family, but overcoming this ordeal together can make it stronger.
What can God do in your life with one Bible verse a day?
Subscribe to Aleteia's new service and bring Scripture into your morning:
Just one verse each day.
Click to bring God's word to your inbox
Unemployment is a great challenge. It is not just an individual ordeal; it impacts every member of the family. The anguish everyone feels is provoked by financial insecurity that teenagers are especially quick to detect.
The first victim of this catastrophe is the person who's been laid off. The loss of social status is compounded by the feeling of having been excluded: gone are the busy schedule, the phone calls, and the coffee breaks with work friends.All of these daily rituals have been replaced by silence, with the impression of having been rejected and forgotten. This is particularly true for breadwinners, haunted by fear of not being able to provide for their own.
Self-doubt gradually makes its way and grows with each fruitless interview "Very often, my husband told me he felt useless," says Francine, a stay-at-home mom and wife of Joel who was unemployed for almost a year before finding a new job. This attitude is echoed by Christopher, who also lost his job a while ago: "I am no longer sure of being able to adapt to the job market. I am afraid of never finding work."
When unemployment strains family bonds
The whole family can feel stigmatized. Older kids, often considering that their pride has been taken away, see unemployment as a great insult.
The relationships within the family can deteriorate – the children and the spouse becoming an outlet for venting one's frustrations. A couple can be tested. "We were both stuck at home and couldn't bear looking at each other," recalls Francine. "I had the impression he was taking over my space. I couldn't stand it."Unemployment disrupts the pace of family life: the long nights spent in front of a computer and sleeping late the following morning.
Sometimes the sense of shame and the negative image of oneself can make the unemployed person and his family experience somatic symptoms, like insomnia, anxiousness, stomachaches, or even depression.
This ordeal can go hand in hand with spiritual crisis. People might feel that God has abandoned them, leaving them no resources.
Unconditional support provided by a spouse
What can be the part played by a partner throughout this time? If they work, it is to contribute financially ensuring the material comforts of the family. This is one thing less to worry about. But the difficult task mainly concerns in keeping the morale high: being a loving and a cheerful presence, always there to lend a kind ear to the other, whenever they wish to talk. All this has to be done without taking on the role of a life coach or a therapist.
This presence should not be overbearing, without excessive involvement in the other's attempts at finding a new job. All advice and admonitions will only infantilize the person, making them withdraw even further into themselves.
The positive non-judgmental attitude of a partner or a spouse is priceless. It is possible to make the other feel better with words of encouragement, highlighting what he or she does best. This will gradually help them to get back their self-confidence. Better still is telling them how much you admire their courage to start over, to let them know you believe in them.
What about the kids?
As for the children, they should never be expected to play a role of confidants or asked to provide moral support. But in their own way they can strongly motivate their unemployed parent in showing solidarity and kindness.
As one crosses this desert, there are oases to recover one's strength. A happy and loving family is a vital place to become re-energized.The larger it is the more concrete and useful is its assistance: helping out with children, lending money, etc. A group of close friends is also vital: sending a message of support, passing on a resume, coming to dinner, so many gestures allowing a person to get back on his feet.
"Come to me, all you who are weary and burdened"
For those who believe, faith is the main source of comfort and motivation. Praying daily allows them to keep their hopes up. The knowledge that someone else is praying for them is also a great source of comfort.
Once a person has been laid off, there is a temptation to become bitter. But unemployment is also an opportunity to see yourself more clearly and to get to know yourself better. Even if this might sound paradoxical, perhaps this phase is a gift from life: to take time to redefine the priorities and take a step in new direction. It is also an opportunity to rediscover one's family, to spend time and have some fun together: to travel, to picnic, to go on a trip to a museum, depending on what you like best.
When experienced in such way, this "time in-between" jobs could reinforce the family bond. The couple facing this ordeal together will only come out stronger. It is an opportunity to learn how to communicate with each other on a deeper level.
God can help us enlarge our hearts through unemployment
Children can learn what an ordeal can be and how to overcome it in observing their parents' attitude, their strength and their faith.Their humility and ability to withstand social pressure, teaches children not to be indifferent to suffering of others, opening their hearts to compassion for less fortunate.
For most of us, losing a job is like a dizzying fall deep into our personal abyss, where we can rediscover God.
Florence Brière-Loth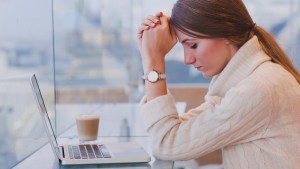 Read more:
Tips for surviving unemployment when it hits your family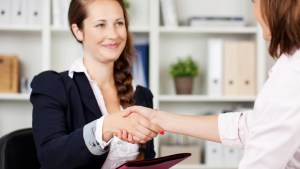 Read more:
5 Secrets to acing a job interview