On March 20, the International Day of Happiness, commit yourself to seeking real happiness.
The desire to be happy is deeply rooted in each of us. God Himself has placed it into the hearts of men and women. So, it is quite normal to want to be happy – it is the reason we've been created. The most important is not to take the wrong path and to realize what true happiness is.
On our path to happiness, the Devil tries to lure us by offering a glimpse of fool's paradise. But an illusion of happiness cannot satisfy us. God has conceived us to share in the divine joy. Anything short of it could only result in disappointment. In his Beatitudes, Jesus reminds us of our calling to be happy and offers us an "instruction" (Matt. 5:1-2).
"Don't store up your treasures on earth"
The path that Jesus invites us to take is puzzling: there is a question of poverty, tears, and persecutions. It is exactly the opposite of everyone's idea of happiness. We all dream of an easy path for ourselves and for our children. Deep down, people aspire to reconcile the earthly delights – material comforts, good social standing and pleasure – with eternal joy. However, the words of Jesus are clear: "Enter through the narrow gate" (Matt. 7:13); "Whoever wants to be my disciple must deny themselves and take up their cross daily and follow me" (Luke. 9:23); "Don't store up your treasures on earth" (Matt. 6:19); "You cannot serve both God and money."
We need to decide: whether we truly want the infinite joy that God wishes to give us? If the answer is yes, let us bravely follow in the footsteps of Jesus. We cannot be lukewarm or undecided – both with God and with the world. Do we have faith, in the Lord or in our bank account? What hopes do we have for our children, eternal joy in the company of God or success on earth? "… do not set your heart on what you will eat or drink; do not worry about it. For the pagan world runs after all such things, and your Father knows that you need them. But seek his kingdom, and these things will be given to you as well" (Luke. 12:29-31).
Is eternal joy with God hard to attain?
The joy that comes from God is not a distant promise, it is offered to us here and now. If we carefully read the eight Beatitudes, as they have been reported to us by St. Matthew, we will see that the first and the last of them speak in present tense: the Kingdom is offered now to those who seek it. He, who desires what is righteous in the eyes of the Lord and depends in all things on Him, will immediately partake in Heavenly joy.
Jesus promises us that all we have renounced for Him will be returned to us hundredfold. (Matt. 10:29-30). Seeking the Kingdom of God does not mean that we will only know hardship and bitterness: on the contrary. The more our heart loves the Lord, the more it is opened to everyday joys, small and great, but all very real. The more we seek the Kingdom, the more will be given to us.
The Heavenly Kingdom seems so unattainable. The task appears so arduous. But the Lord has imposed only one condition: "Truly I tell you, anyone who will not receive the kingdom of God like a little child will never enter it" (Mark. 10:15). Childhood is synonymous with infinite love, the abandon of all things to the parents. The child is like the humble, entrusts himself fully to the love of the Father. We are not many to trust in God and depend for all of our joys on Him alone, because we fear the Cross. But God does not send us suffering, he gives us joy. And when we are facing trials, He offers us to go throw them together, instead of suffering to have a foretaste of Eternal joy. So do we truly want it?
Christine Ponsard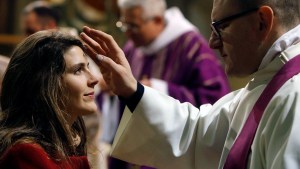 Read more:
How to turn Lent into a joyful season
Read more:
10 Attitudes that will make you more joyful