"Do not be afraid!" is throughout Scripture but it can be difficult to live that way, especially when faced with a threat.
When things are going more or less well, it's much easier to live with confidence. It's another story when trials and uncertainties come along, especially if you already have a nervous temperament or suffer from an anxiety disorder.
Confidence isn't something you can command. Somehow, despite ourselves, dark thoughts, worries, and fears invade us, especially at night, and take on wild proportions. We'd truly like to fear no more, but we feel so terribly powerless. The temptation is then great to give in to discouragement, even to despair: "Unconditional trust? That's for saints, not for me," we tell ourselves. We feel miles away from that joyful carefreeness Jesus calls us to, and incapable of shaking off the worries that oppress us. And yet, Jesus' call to abandon ourselves to the love of the Father doesn't concern just some of us. It is a call to each and every one, whatever our worries.
Trust is a journey: to move forward, it's enough to put one foot in front of the other. In other words, to grow in confidence, we must redouble our small acts of abandonment, without becoming discouraged. Even if we feel we're only making baby steps, it doesn't matter because a thousand little steps are worth more than an occasional great stride, and also because we're completely incapable of judging our own progress — one small act of abandonment in the darkest times can, despite appearances, represent a giant step.
A prayer of abandonment to enter into trust
We're all capable of acts of abandonment by simply desiring it. By deciding to hand over all our cares to God. By choosing to place our trust in Him. While we can't command this feeling of confidence, we can desire it. Concretely, that means that, even when gripped by anxiety, we can still pray to the Lord:
I desire to believe in You.I desire to trust in You.I desire to have enough faith and hope in Youand to entrust myself into Your hands.
This very humble prayer is a great act of trust. Whoever cries out in this way to the Lord never cries in vain. Without knowing it, without noticing anything, you are already in the arms of God; you are already entered into His trust.
Trust is a gift of God. And like every gift of God, it is offered to everyone, unconditionally and without limit. But we must still desire it and ask for it in order to receive it. When, through pride, we seek to make our way through by ourselves, we make trust impossible. But it's no better when, through  modesty ("I'm no saint!"), we tell ourselves: "Trust is too much for me." Yes, it's too much, but what if God wishes to offer it to us? A little child who's offered a wonderful present doesn't refuse it because she doesn't deserve it. She grabs it with both arms in delight! That is how Jesus asks us to receive the gifts of his Father; that is how He calls us to enter into trust.
Christine Ponsard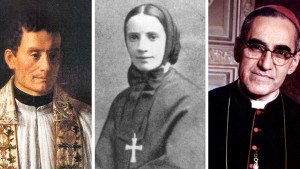 Read more:
6 Saints who lived with fear, and served God anyway
Read more:
5 Useful steps to help reduce anxiety