Our homes have turned into our churches for now. Here are a few ideas for setting up a special spiritual place to pray.
What can God do in your life with one Bible verse a day?
Subscribe to Aleteia's new service and bring Scripture into your morning:
Just one verse each day.
Click to bring God's word to your inbox
A prayer corner is essentially any place where we pray. It might literally be a corner in a room, closet, or shed. When it is set up with religiously significant items, it can remind the entire family throughout the day of the vital importance of prayer in our daily lives. A prayer corner encourages meditation. It is a call to prayer. It is also a tool for family catechesis.
One father I know has his family's "prayer corner" in the living room with a lamp constantly lit in front of an icon — a popular tradition in some countries. The children of this father said that when they get up at night and walk past the "prayer corner," it reinforces God's presence and is reassuring for them.
So, how to create a prayer corner? Each one will be unique like each family. But here are some guidelines.
Decide on a specific place
The first step is to choose the location. Sometimes you have to try one place and then another before finding the most appropriate one. The children's wishes may also lead to change. Even in a small apartment, several possibilities may occur, and you should know that there is no ideal place per se: the "prayer corner" can be placed in the kitchen, in a bedroom, or family room. However, these criteria are important to consider: 
– Enough room for the whole family to stand together.
– A quiet place, which does not distract attention. If you stand in front of a window facing the street, the noise coming from outside may prevent meditation.
– As beautiful as possible … or can be made beautiful. Avoid the proximity of the trash bin or a basket of dirty laundry.
– A place that you can frequently walk past during the day, not to be relegated to a place where nobody ever goes.
– At the same time, isolated enough to allow anyone to come to pray alone. This last criterion, of course, is only conceivable in sufficiently large housing. It is difficult — not to say impossible — to isolate yourself from the others when six or seven people live in three or four rooms. But even if that is the case, do not be discouraged. Any place that reminds us to pray and fosters peace and reflection is good.
How to adorn a prayer corner
Once the space is chosen, it needs to be developed. The minimum might include a small statue, a crucifix, or an icon. Choose something beautiful or meaningful. It is very beneficial for children to associate God with beauty. Monasteries offer a large selection of images and statuettes, for all tastes and at all prices. These images (or icons, or statuettes) can be placed on a small table or hung on the wall, but always at the height of the smallest children. 
Another important element is a candle or candles. The flame speaks to us about the love of God, the fire of the Holy Spirit, the light of Christ who guides us. Some families light three candles, one for each Person of the Holy Trinity. Others light as many candles as members of the family: each one his own and, when there are absentees, their candles are there to represent them. During Advent or Lent, the number of candles may increase from week to week. On the anniversary of their baptism, the children can also light their candle, if it is easily located. 
Flowers (fresh and not faded) or plants bring life and cheerfulness to a prayer corner. Children will be happy to find flowers outside on walks to place there.
You might also consider a kind of bulletin board: all you need is a cork plate or expanded polystyrene (2 to 3 cm thick). If it is polystyrene, you'll need to cover the plate with plain fabric. You can hang children's drawings, Scripture quotes (that of the Sunday's day), photos of people for whom you want to pray, especially godchildren, etc.
Other elements like rugs, appropriate lighting, a small shelf with books and notebooks, stools or small benches, a speaker, and more can  complete your prayer corner. Enjoy setting up this special space and let it evolve with time and inspiration. 
Christine Ponsard
Read more:
9 Inspiring prayer corners on Pinterest dedicated to Mary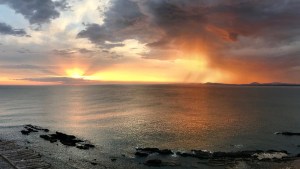 Read more:
A prayer to grow in peace during troubled times