This is a perfect time to deepen and expand our spiritual life.
What can God do in your life with one Bible verse a day?
Subscribe to Aleteia's new service and bring Scripture into your morning:
Just one verse each day.
Click to bring God's word to your inbox
God loves each human being individually. He gathers all of us into one tribe, composed of distinct individuals. No two people that God has created are exactly the same and He loves each of us in his own unique way. When Jesus addressed himself to the multitudes, each heard the same words, but reacted differently to them. We all share the same Gospel, but each of us is differently inspired by its messages. This is our personal relationship with the Lord.
E

ach of us has his personal relationship with God

God provides what is right for us, at the right time.All along our lives He carefully reveals things, we can comprehend. He makes us progress at our own speed. It is not up to us to evaluate or control the transformations God operates deep within us. Often these changes take place without our realizing it: never without us, never despite us but in such a discreet way that we are barely aware of it. So, as we pray, what counts the most is this silent work of God, "more inward to me than my most inward part" (St. Augustine).

God does not impose himself on us. He always calls on us with great discretion and respect for our freedom. He never tries to entrap or force us. "Behold, I stand at the door and knock. If anyone hears My voice and opens the door, I will come in to him and dine with him, and he with Me."(Revelations, 3:20-21).

If there is no one to open the door for Him, God remains on the doorstep. He never forces us to welcome Him. No one knows whether I have opened my door to the Lord, nor how wide I have opened it. And I cannot know this about the others even if they are my loved ones (husband, children, friends).
Enjoy the silence to better listen to the Lord
God doesn't hide, but makes Himself small and humble, so he doesn't humiliate those He addresses. To reveal himself to us, He made himself man "gentle and lowly in heart" (Matthew 11:29). His kind words are uttered in a "small voice" (1 Kings 19:12). So, we too need to be quiet to hear him and retire into the "secret place" deep within our hearts. "But you, when you pray, go into your room, and when you have shut your door, pray to your Father who is in the secret place; and your Father who sees in secret will reward you openly" (Matthew 6:6).
Instead of retiring "into our room" to be confined and isolate ourselves, to snuggled in a cozy tête-à-tête with God,let us withdraw to receive words that will help us to take care of and love our brothers everyday of our lives.
Quarantine can also be conductive to discovering the splendor of silence, the joy of solitude to savor some spiritual reading.
Having kids participate
This education in intimate spiritual life requires the greatest discretion on our part. If you have children, you should let each of them hear the call of God and answer it. But you don't have the right to pry about their experienced in the course of their heart-to-heart with God, even if they're still very young. Naturally, this is not always easy, because we must be both attentive and available to help our children when they need it while at the same time remain respectfully in the background.
Christine Ponsard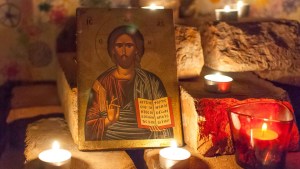 Read more:
How to create a prayer corner in your home
Read more:
11 Hidden joys of quarantine