Here are some tips to help you create little masterpieces with ingredients in your fridge and pantry.
What can God do in your life with one Bible verse a day?
Subscribe to Aleteia's new service and bring Scripture into your morning:
Just one verse each day.
Click to bring God's word to your inbox
The egg has long symbolized life, fecundity, rebirth, and hope. Early Christians saw it as a metaphor for the Resurrected Christ. Until the 17th century, the consumption of eggs was banned during the Lenten season, so they would accumulate for 40 days until Easter.
The European tradition of painting eggs goes back to the 1200s. The first eggs were commonly dyed red in reference to the blood of Christ shed for our salvation. Legend has it that on Easter day, Mary Magdalene presented the first egg to the Roman Emperor Tiberius and told him about the resurrection of Christ. On hearing this, Tiberius showed skepticism, claiming that no man could rise from the dead, just the same as the white egg could not turn red. As soon as he uttered these words, the egg that Mary Magdalene gave him turned bright red, so from that day on, Christians have been decorating Easter eggs according to their fancy (with stickers, feathers, glitter, etc).
Dyeing hardboiled eggs can be time consuming but it's easy. As for the dyes, don't worry, you can dye your Easter eggs with pretty much anything you can find in your fridge — you just have to wait until Easter morning to eat them.
Coffee, spinach, beet, and red cabbage … You can dye your Easter eggs with any of them!
Many natural products in your cupboards can be used to dye Easter eggs. Coffee can be used to make your eggs brown and beet juice will give you a lovely pink color. Spinach turns eggs green and red cabbage makes them blue. You can also use turmeric to obtain a beautiful golden color and onion skins for a deep reddish-brown.
Here's a simple Easter egg recipe: First, cook your eggs over low heat (to prevent the eggshells from cracking). Then, prepare your dye. To do this boil half a gallon of water, add a teaspoon of white vinegar with any ingredient mentioned above. Let the concoction simmer for 30 minutes.
You can then plunge your eggs into this solution. Let them soak from a few minutes to several hours, depending on the desired intensity of color.To make the dye adhere better, wipe the eggshells with a paper towel or a piece of cotton soaked in vinegar before plunging your eggs into the dye.Don't worry, you'll still be able to eat them! Once your eggs have been dyed and dried, you can give them a shine with a bit of oil and place them put into a beautiful container.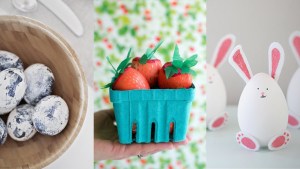 Read more:
13 Gorgeous and unique DIY Easter egg designs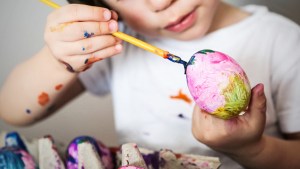 Read more:
The surprising holiness of Easter eggs