Scripture doesn't give us many details but these days of the Lord were marked by events that can help us grow in our spiritual lives.
Need an idea for Lenten almsgiving?
Help us spread faith on the internet. Would you consider donating just $10, so we can continue creating free, uplifting content?
Make a Lenten donation here
"The days that passed between the Lord's Resurrection and his Ascension were not devoid of events: great mysteries were then confirmed, great truths were revealed," wrote St. Leo the Great. As for the places where Jesus may have been physically during this interval, apart from the moments of His appearances, "they are unknown, because the Holy Scriptures do not provide us with any data on this subject, and it is in every place that is exercised his domination" (St. Thomas Aquinas). Let us nevertheless try to examine, in the light of the word of God and the encounters of the Risen One, four teachings of Christ during this period. We have much to learn there.
1
Jesus offers us consolation, peace, and joy
Christ appears to his disciples to bring them the certainty of faith in His Resurrection and to offer them consolation, peace, and joy. On the day of His Resurrection, He appeared to different people five times.
St. Thomas Aquinas brings light to bear on this: "To demonstrate the reality of the Resurrection, it was enough that He appear to them several times, that He speak to them in a familiar way, that He eat and drink, and that He invite them to touch him. It was to manifest the glory of the Risen One that He did not wish to live among them continually, as He had done in the past, lest they think He had returned to the same life as before."
2
A new way of relating to Jesus
Jesus teaches his disciples a new way of relating to Him. Even as he is there speaking to his Apostles, He tells them: "These are my words which I spoke to you, while I was still with you" (Lk 24:44).
This "while I was still with you"– while He's right before them–shows that this incredible way of being present as the Risen One is not of the same order as His presence when in mortal flesh. While revealing Himself to Mary Magdelene, He tells her, "Do not touch me!" (see Jn 20:17). Henceforth, it is by faith and charity that we truly "touch" the risen Jesus.
3
The importance of prayer for evangelization
Jesus prepares his disciples for the mission He entrusts to them, which will take concrete form at Pentecost. He asks them to actively await the coming of the Holy Spirit, whom He will send from his Father and who will open to them the fullness of truth. Through Him they will receive the strength to bear witness to the ends of the world and to the end of their lives.
The Apostles remain in the Upper Room with Mary at this time of preparation and meditation, deepening within themselves the desire for this gift of God, thus manifesting the centrality of prayer in mission.
4
Jesus is always there to enlighten and transform our existence
The manner in which Jesus appears to his disciples invites us to a spiritual realism. He presents to us the mortal wounds of His now glorious and immortal body. These wounds join ours. They are like a spring of living water flooding our weaknesses with his grace in the encounters of our daily life.
What's more, Mary Magdalene mistakes Him for the gardener, indeed for the prime suspect in the theft of Christ's body. The pilgrims of Emmaus take Him for a slightly offbeat walker who doesn't even know what's been happening in Jerusalem. Thus through these encounters we find Jesus showing us that He is always there, in the most simple and disconcerting ways, in the banality of life, to enlighten and transform our lives by His presence.
Nicolas Buttet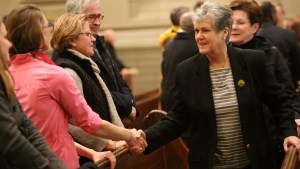 Read more:
How to greet each other during the Easter season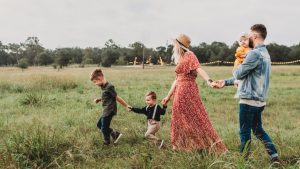 Read more:
5 Catholic teachings that free families