This bad habit affects everyone in the family,. Here are 4 strategies to change that.
What can God do in your life with one Bible verse a day?
Subscribe to Aleteia's new service and bring Scripture into your morning:
Just one verse each day.
Click to bring God's word to your inbox
"I can't stand all this mess any more!" "You've known for ages that homework was due." "What did I ever do to deserve this?" "I'm sooo exhausted." "Why is this internet connection so slow?!" The weather, your work, the kids, your spouse: there are always so many reasons to grumble every day, especially during this time of confinement and worry.
But what if you changed the record a little? What if, once and for all, you stopped this bad and sterile habit of grumbling that only poisons your life and that of those around you? Here's how to make it happen…
1
A bracelet to motivate you
In Stop Complaining: A Complete Guide, family counselor Christine Lewicki shares the secret to a simple method she's tested on herself to stop complaining in 21 days. The mother of three admits to giving herself the challenge after one particulatly depressing evening. "I flopped into bed thinking this was a truly rotten day. And then I realized it was just a normal, average day and that I had many more like it ahead of me! I realized that I had to find a way not to just endure my daily life and that, if I wanted to be happier, I had to change. When I thought about it, it struck me that the moments that most got me down were those when I was grumbling the most."
"Grumbling is blaming someone [or something] else for a frustrating situation," the specialist explains. "To stop being a grouch is to decide to no longer play the role of victim and thus take back control of your life."
And why 21 days? Because American researchers have concluded that our brains need a good 20 days or so to break a bad habit and replace it with a new one. But beware: it must be 21 consecutive days, Sundays included, with no relapses. To motivate yourself, Lewicki suggests wearing a bracelet on the same wrist throughout the whole detox. At the slightest grumble, switch the bracelet to the other arm and start again from scratch.
2
Do a behavioral overhaul
To start, write a list of your regular complaints. Then ask yourself whether you have a tendency to exaggerate things to make your presence felt or to gain sympathy. "I can't stand it anymore!" "It's always me that has to do everything!"… By repeating these little phrases, you end up convincing yourself they're true. "When we complain, we give oxygen to our negative thoughts. By grumbling, they slip into our conversations, our relationships, our daily life … and little by little, they become our life, who we are. We end up believing they're true!" the counselor warns. So the first resolution is: stop over-dramatizing and find the correct words to describe a situation.
Then study your dreaded list a little more closely. You'll realize that some of your reasons for complaining can actually be erased. All it takes is a little will-power and organization. For example, it's easy enough to abolish the classic "How many times do I have to tell everyone to come to the table" by announcing to everyone 10 minutes ahead of time that supper's ready. Meal times, meetings, the kids' homework … It's important to anticipate rather than leave things to the last minute.
3
Choose happiness
Try to avoid situations that are apt to make you blow a fuse. By clearly analyzing this reflex to grumble when faced with an annoyance, Lewicki also observes that we tend to think everything would be better if our environment would change, that life would be so much nicer without all these daily constraints. But, "our happiness depends on us, not on external circumstances. It derives from the way we look at the little things of daily life," she affirms. It's the old story of glass half empty or glass half full: the way you decide to look at it is a question of will.
St. Thérèse of Lisieux said it beautifully: "The only happiness in this world is to apply oneself to always finding delicious the portion Jesus serves us."
According to American brain specialists, this capacity for happiness is no more difficult to learn than playing tennis or a musical instrument. So, choose happiness by practicing it!
4
Celebrate and give thanks instead of grumbling
So this is all fine, but if you're addicted to complaining, don't you run the risk of withdrawal symptoms? Is there some anti-grouch patch, some kind of electronic cigarette-like tool to wean you off your indignation?
"Those who've tried this program to stop complaining are very quickly aware of a void in their conversation," Lewicki emphasizes. And, it's well known that nature detests a void. "So it's important to replace your words of complaint by words of celebration."
So celebrate, give thanks for all you're so lucky to have. And, in the end, isn't that what could be called "the melody of happiness"?
Elizabeth Caillemer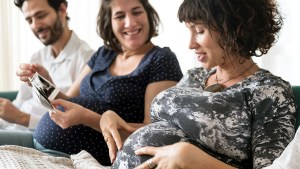 Read more:
How to talk about your troubles without complaining when you're pregnant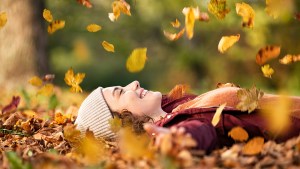 Read more:
Science reveals that showing gratitude makes us happier