During this time of confinement, angry outbursts are bound to happen. Here's some advice about how to deal with it.
What can God do in your life with one Bible verse a day?
Subscribe to Aleteia's new service and bring Scripture into your morning:
Just one verse each day.
Click to bring God's word to your inbox
Kicking, fighting, emotional outbursts… children's temper tantrums often leave us feeling perplexed and unprepared. Nevertheless, anger is actually a sign of good health, as long as it stays under control. Parents need to know how to identify it and deal with it calmly. They are also responsible for guiding their children to a greater level of control and maturity. Here we offer a few points of advice to achieve this.
Every age has its own expressions
"I don't want to get dressed!" Peter kicks and throws his shirt and pants to the other side of his room. After a long 15 minutes, the storm suddenly subsides, the angry youngster gets dressed, and he goes to the living room where his parents are. "These temper tantrums have become a habit ever since Peter was three. I just let it pass," confesses Agnes, his mother. Every parent is faced, on a more or less regular basis, with this type of infantile tantrum. This is entirely normal – tantrums are a sign of a healthy child. "It is a natural, healthy reaction to frustration, and helps the development of the child's identity," says psychotherapist Isabelle Filliozat.
We often confuse anger and violence. Violence is destructive, it erupts when anger becomes uncontrollable. Anger, on the other hand, is constructive, it is an assertion from one person to another. Loren, 18 months old, throws himself down on the floor because his mother refuses to give him some candy. This is his way of expressing his frustration. An older child would react in a different way: every age has its own way of expressing anger. Childhood has different developmental phases: Around 3 years of age, the personality is being asserted. Then there is the phase where a child can reason and knows how to express feelings in words.
Why do children have fits of anger?
There may be aggressive tantrums, there may be verbal violence from a disrespectful child, or there may even be the confusing behavior of a child that keeps his anger in and expresses it indirectly. The child that withdraws, the little one that wets his bed, or the good student who, for no apparent reason, gets several bad grades; they may each be expressing anger in an unexpected manner. We need to recognize these less-visible signs.
But we should also be aware that some children do suffer from unduly excessive tantrums. These may not be understood by the parents who feel helpless because they are brought on by a more serious issue. "In some cases, anger is an issue of serious behavioral problems. There can be many causes, for example, a change in the family or a neurological disorder. When rage is related to psychological problems in the child, it can become pathological. In this case, a specialist should be consulted," advises a pediatrician.
Tension is always brought on by a lack of something. The lack of love brings out resentfulness; an unsatisfied need brings with it frustration. "Paul took my car!" yells 5-year-old Victor, seeing his brother ride the toy car around the park. "Children have a keen sense of justice," analyzes Victoria. "The sense of injustice provokes anger … The conscience rebels, a bit like the survival instinct. When the child gets mad, she feels liberated. If another child takes the toy out of her hands, anger is a means of self-defense." A tantrum is a sign of alarm: something is going on in the child's head, at an emotional level. The birth of a new brother or sister? Have the parents separated? These are all emotional shocks that the child feels deeply and tries to exteriorize. "Children are truly sponges, they absorb fear, sadness, tension," Isabelle Filliozat reminds us. And since the emotions of children are not as mature as those of adults, they are expressed through rage.
Finding the right attitude 
"Our children need to learn how to channel their anger and express it in an acceptable way," says well-known infant specialist, Dr. Ross Campbell. Campbell is convinced: educating this rage is part of the parents' mission. But, how should we react to a raging child? "Nothing is more effective than expressing total indifference," says Agnes. "This method worked very well with with my older children!"
Staying totally calm with an infuriated child is often more effective than engaging in a screaming battle. However, it's difficult to not do anything when a child decides to throw himself down on the supermarket floor, or loudly yells that he wants the same toy as his older brother.
For starters, we need to identify what we are dealing with. "I can immediately distinguish between a whim and when a child really needs consoling," says Marie, mother of three.  Laurie, a pre-school teacher, says: "What's most important is to … be ready to comfort the child who really needs it … With time, you learn to see immediately what you are dealing with."
Should we punish a child who has had a temper tantrum?
"Parents, do not provoke your children to anger by the way you treat them. Rather, bring them up with the discipline and instruction that comes from the Lord" ( (Ephesians 6:4).
A warm, relaxed home helps the child mature with confidence and a healthy self-esteem. "Children are mirrors that reflect love. Unconditional and steady parental love is a sure guide," says Dr. Ross Campbell. "We try to make the children feel they can say anything in the family, without fear of being judged," explains Anne, mother of four between the ages of 8 and 16.
Should you scold the child who is having a tantrum? "Our role," insists Isabelle Filliozat, "is to use our intelligence to identify the child's need, help him channel his energy, restore his feeling of integrity, feel better in spite of not getting what he wants, and reiterate how he perceives the injustice." Fathers and mothers are the teachers of their children's emotions, says Dr. Campbell. From anger to enthusiasm, children need to learn about emotions. And it takes time.
Every family has its own way of doing things. At Catherine and Ben's house, the bedtime story opens up conversations. Children's stories and traditional tales wake the children up to love, sadness, piety … They are a marvelous teaching tool. For her part, Elizabeth, mother of five older children, always reserved ten minutes a day with each child for an intimate talk.
Knowing how to regular your own emotions first
Take your time, show your willingness from the heart — this is more helpful than any long educational speech. It doesn't mean you have to accept everything. It is the parents' responsibility to know how to combine patience and consistency. "For better or for worse, those who have the most influence over children are the parents," says Dr. Campbell. "The determining factor is the way in which the parents overcome their own anger." It is impossible to calmly deal with a child's bout of anger if we don't know how to calm ourselves down first. It is very challenging, but essential.
Parents have their limits, of course. A night's sleep interrupted by a child's nightmare, an exhausting day of hard work … it is then easier to become angry when things happen. Do not fret, anyone can get overwhelmed if they're over-tired. It's simply a question of accepting that children can let their parents know that their anger is unjustified, and that parents can calmly recognize their mistakes.
The most important thing is to maintain a trusting environment with the children. In this way, harsh words spoken in a moment of exasperation can be understood more easily as just that, something unintentional, not necessarily meant to be hurtful. Lastly, as Dr. Ross Campbell reminds us, "the better shape the parents are in physically, spiritually, and emotionally, the better they will be able to withstand the rage."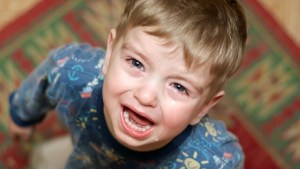 Read more:
5 Ways to stay calm when your kid is having a tantrum
Read more:
The best way to handle a toddler temper tantrum