There's another side to complaining that we can appreciate, especially in these days of quarantine.
What can God do in your life with one Bible verse a day?
Subscribe to Aleteia's new service and bring Scripture into your morning:
Just one verse each day.
Click to bring God's word to your inbox
In everyday life, and even more so during confinement, we complain a lot and listen to others complaining as well. While in the long run these complaints can become difficult and wear us down, there is another way of looking at them.
Psychoanalyst Saverio Tomasella has analyzed the causes and symptoms of this widespread attention to the negative. And he exemplifies it through the character of the poor little cartoon chick who,having just hatched, finds that life is "not fair." To help us react to this type of person, or to stop our selves from being like this, Tomasella offers a few words of advice based on his professional experience…
What's really going on with the "Calimeros"?
A "Calimero" is someone who "complains insistently, non-stop" and behaves in a "totally self-centered manner, and demands that everyone pay non-stop attention to him," Tomasella tells us. He explains that these complaints are often quite ridiculous and infantile and that this self-victimizing reveals an immature lack of tolerance for frustration. At his office, he sees many patients affected by this characteristic of our times. "Complaining about any, often trivial, thing produces a powerful domino effect that would nearly explain the infantile behavior typical of this habit," he indicates. The more the patients complain, the less capable they are of becoming responsible, adult subjects, able to take positive action to be happy.
This is a harsh diagnosis and should logically make us want to stop our own complaining, but Tomasella clears up Calimero's bad name. Instead of feeling guilty about this tendency to feel sorry for ourselves, he proposes that we see complaining not only as quite legitimate, but even beneficial. All our moans and groans (even the most trivial) deserve to be listened to, even if only to recognize the intimate wound that they indirectly express. Loneliness, abandonment, abuse, feeling of injustice: every "Calimero" has had distressing experiences in childhood. It is often that hurt child, that lack of love, that comes through in the inconsolable complaining. "The feeling of injustice is an interior manifestation of that primal experience of total impotence. Like Calimero, that feeling overcomes us when we are faced with a lack of care: no one is there to help us, protect us, rescue us …," he clarifies. With a "Calimero" it is counterproductive to preach stoicism. All that does is repress the torment that, far from calming the person down, poisons him or her.
The tyranny of cheerfulness leads to selfishness
According to Tomasella, disparaging complaining can actually mask a certain selfishness. The tyranny of cheerfulness, the mandate to be "positive" and "live in the present," not tolerating someone's complaint or negativity that certain popular magazines advise us to avoid, covers up a self-interest that is even more cruel when it comes across as virtuous stoicism.
This kind of thinking gives us permission to close our heart to someone who shows they are suffering. It allows us to keep our heart impassive, while believing that our conscience is clear.Instead of extinguishing the complaint, it forces it to come out in other ways. "Prohibiting complaining is a way of criticizing it, and transmits contempt and disdain, similar to making fun of it," says Tomasella.
The spiritual virtue of complaining
So what attitude should we have? What should we do to keep our experiences or worries from degenerating into sterile complaints, victimization, or a nostalgic looking back on ourselves?
"The first step is looking our misfortunes straight in the eye," proposes Dominican Adrien Candiard. "Get to the essence of Christ's words: 'My God, why have you abandoned me?'"
It is certainly legitimate to express our suffering upon a catastrophe. We should put our hope entirely in God  and to do this we have to give up our petty ideas about what will console us.
Don't forget to look ahead
Sister Solange Navarro points out that the Bible offers multiple examples of this
Complaining centers exclusively on the past. In the desert, The Hebrewslonged for the Egypt that God had freed them from. "They have a faulty memory of an idealizedpast, while the road of exodus is the road of liberation," says Sister Navarro. The result is that they go in circles in the desert for 40 years and those who complained did not enter the Promised Land.
This is a very clear metaphor for sterile rumination and clinical observation confirms her analysis: Tomesalla also emphasizes that unproductive complaining is "a timeless fixation" and a "negation that time is passing." Extracting oneself from going around and around in a circle of complaints means you are willing to look ahead.
The biblical figure that best exemplifies complaining is Job. After the terrible loss of all his possessions and children, at first he remains impassive and recites a formulaic, automatic piety. Later, he virulently complains to God about his fate. His friends are scandalized and cannot take his recriminations that border on blasphemy, explains Sister Navarro. Indignant, they abandon him. Nevertheless, Job is the only person in the Bible about whom God says: "He has spoken the truth about me." But, in order to do so, it was necessary that disgrace enter in him, leading him to then break down.
Job shows us that to stop complaining, the only solution is to follow it to the end, with no concessions, no false consolation, and no calming and self-deceiving discourse. "The complaint can only expire with complaint. As odd as it may seem, it turns out that the poison is the cure," declares Protestant theologian Marion Muller-Colard. Being willing to look misfortune straight in the eye, in its entirety, means being willing to accept, like Job, that God is not the protecting figure he had imagined, who rewards the good and punishes the bad in this life.
Sometimes an authoritative call to attention is needed to stop us from complaining
So, must we resign ourselves to misfortune? Are we supposed to think of life as a "valley of tears" and hope for better days in heaven? That would mean overlooking the fact that Job, who experienced reassurance during his life and that Jeremiah, famous for his complaints and reproaches against a God, are important figures of hope. Jeremiah, in effect, announces a new alliance and, at the worst moment of the catastrophe, buys a field to symbolize his hope of better days. God promises him: "I will be with you."
Job is reassured because he is capable of establishing a dialogue with God. He does not remain alone in his pain. His complaint is not a solitary rumination; rather, it is directed fundamentally to Someone. For Job, being willing to complain means daring to speak freely to God, without pious formulas. It is also how, at a given moment, he puts an end to his recriminations. In the book of Job, God responds to His servant by showing him the perfection and beauty of the Creation: "Where were you when I laid the foundation of the earth?" (Job 38:4). This reminder puts an end to his complaints.
"Sometimes an authoritative call to attention is needed to stop us from complaining. Like a child who stops after a "That's enough!" from his father and realizes that he is not alone; it comforts him to know that the world does not revolve around him," says Marion Muller-Colard.
Pauline Quillon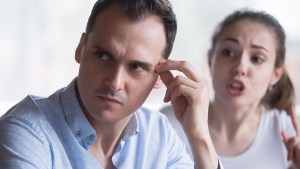 Read more:
What to say to that person who's always complaining
Read more:
How to re-train your brain to stop complaining