The parents of Therese of Lisieux have wisdom for such times as these.
What can God do in your life with one Bible verse a day?
Subscribe to Aleteia's new service and bring Scripture into your morning:
Just one verse each day.
Click to bring God's word to your inbox
Suffering is a part of life, but in tough times, certain saints can help us better understand and get through them. Fr. Jean-Marie Simar, long-time former rector of the Louis and Zélie Martin Sanctuary in Alençon, France, reveals this saintly couple's secret to bearing up during trials.
Do you have to suffer to be a saint?
No. Because in heaven we will be saints without suffering. But here on earth, saint or not, believer or not, whether we want it or not, we're all confronted at some time or other with suffering. The Christian who would be a saint accepts this and offers it up in union with the suffering of Christ. In this way, we come to resemble Christ.
In what sense can suffering be "redemptive"?
Only the sufferings of Jesus, offered through love, are redemptive. He alone saves us. But God wished us to participate in His plan of salvation. This is what St. Paul tells us when he says: "Now I rejoice in my sufferings for your sake, and in my flesh I complete what is lacking in Christ's afflictions for the sake of his body, that is, the Church" (Col 1:24). And so we may speak of a "co-redeeming" suffering, as Pope St. John Paul II, put it.That means that, like the Mother of Sorrows, we can unite all our suffering, whatever it may be (sickness, pain), to that of Christ's for the salvation of others. Thus, our suffering takes on an immeasurable, inexpressible value. All we must do is say to Jesus, "I offer it up to you for the conversion of others, for peace in the world …"
St. Zélie Martin spoke much about resignation. So must we resign ourselves in the face of evil or should we fight against it?
God doesn't desire suffering. He never did, just as he never desired its cause: sin. It is not he who sends us suffering in order to punish us, as is sometimes thought. That's why we do everything to prevent, relieve, or heal suffering. That's just what Zélie did, she prayed for healing, and even went to Lourdes. But, on the other hand, she did not rebel against God, she accepted everything and abandoned her life into the hands of God, as she wrote to her sister-in-law: "It is better to put all things in the hands of the good Lord and to await events calmly in surrender to his will. That's what I strive to do" (Family Correspondence, 45). So her battle was all about surrendering to God's will, not about fighting to escape suffering at all costs.
Suffering can lead to rebellion against God. Was there no ounce of rebellion in the Martins?
Through their prayerful and sacramental life, through their commitment to living the Gospel, Louis and Zélie found their love of God grow so much there was no place left for rebellion. On the contrary, it filled them with compassion for all the sufferings that Jesus endured for love of us. They were aware that suffering in union with them was a blessing. That compassion for the crucified One led them to greater love for their neighbor, and particularly for the poor.
So was there a Martin family recipe for facing trials?
By looking to the Crucified, and to his Sorrowful Mother, the Martins understood the redemptive value of suffering borne and offered up through love. That's why, without even asking themselves the question, without rebelling against God, they accepted the cross each day brought, from the smallest to the greatest. They drew strength to do so through the Holy Eucharist and daily Communion, because they attended Mass daily. This was how suffering became, for them and for their children, a blessing. While Zélie was stricken with cancer, she said one day: "If all it takes is the sacrifice of my life for Léonie to become a saint, I'd do it gladly" (Family Correspondence, 184).
From an interview with Luc Adrian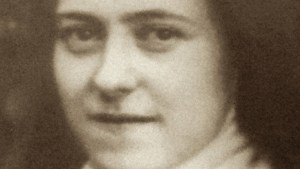 Read more:
7 Of the best St. Therese quotes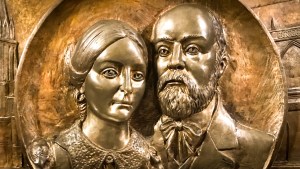 Read more:
5 practical parenting tips from Sts. Louis & Zelie Martin, saints who raised saints