Kids are curious and love to ask questions about our life before them. How honest should we be?
What can God do in your life with one Bible verse a day?
Subscribe to Aleteia's new service and bring Scripture into your morning:
Just one verse each day.
Click to bring God's word to your inbox
Children like to know all about the lives we led before they came along. What should we actually tell them? Should we be honest and share our mistakes? How should we approach their curious questions?
Be wise
Be wary about sharing all the details of family grudges and conflicts.In your attempts to paint an accurate picture of what transpired, you may be offering your kids an image of immature adults, stuck in their ways and unable to extract themselves from the cycle of conflict.But you can tell them about your first love and heartbreak, or the first time you stayed out late with friends. You can share some of your mistakes, and the lessons you learned from them.
Don't project a perfect image of yourself
Parents are not supposed to be perfect, and children are in a good position to know this. So, don't attempt to project an image of someone you are not, by telling them how wonderful, hardworking, and polite you were at their age. Otherwise, they will either assume that you're a liar and a hypocrite or they'll wonder what stroke of bad luck has transformed this ideal child into the adult they know today!
Tell your children things they can understand
Have the courage to tell them something that directly concerns them: their arrival into the world, for example, as well as things from your past that explain the way you act around them. Often children are quick to blame themselves for problems they don't understand and didn't cause. Tell them only things they can clearly grasp and be aware of their developmental stage — younger children can't understand what older children can comprehend. 
Some of your past errors do not concern your children, of course. Instead, tell them about the ordinary problems we all encounter and how you could or could have resolved them. Be prepared to share more as things come up that your child may encounter — they can benefit from hearing about your experience dealing with a similar situation.
Share these memories with your kids and show them that the merciful hand of God is always there to set us right on our path.Forgiveness (granted and received) changes us and allows us to see our future in a positive way. The story of our love with God consists of highs and lows, and we can help our children learn to see Him in all of it by sharing aspects of our own spiritual journey.
Jeanne Larghero
Read more:
Should you reveal family secrets to your children?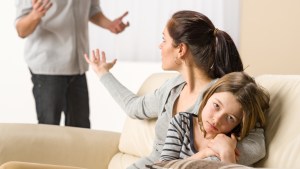 Read more:
What to do when you and your spouse have different parenting styles