Mary is our mother and an example to follow for all of us.
What can God do in your life with one Bible verse a day?
Subscribe to Aleteia's new service and bring Scripture into your morning:
Just one verse each day.
Click to bring God's word to your inbox
The Mother of God devoted her whole life to our Lord. From the very start, all of her thoughts and desires have been centered on Him.She is constantly in His presence and wants us to share her love and dedication for her Son, who is Life itself. As our mother, she wants the same for us and helps us each day to grow closer to Him. 
Mary teaches us about inner silence
The Mother of God reveals to us the mystery of inner silence without which prayer is impossible.It's hard for us to maintain, because we are constantly distracted by petty considerations. But she is silent and humble, bound to God alone and committed to fulfilling His will. The Mother of God makes us realize that this silence is a fruit of selfless acceptance, destined to bring peace into our hearts and minds. All we have to do is abandon ourselves and, like little children, place all of our trust in the Lord.
Mary intercedes on our behalf
As we recite our rosaries we constantly repeat: "Holy Mary, Mother of God, pray for us sinners." This humble prayer makes us ardently desire salvation and gradually opens our hearts to the light of the Holy Spirit. The Virgin Mary also teaches us how to abandon ourselves to God's mercy. She had her heart broken as she watched her Son die on the Cross.But she was also the first mortal to be born without Original Sin, which is the greatest kind of forgiveness.
Mary is our shield
God's love is too overwhelming and too hard for us to bear, unless we become humble like Mary. God manifested his great love for us when He died for our sins and it is there that He introduced us to his mother so that through her we can become like little children and penetrate the Trinitarian mystery.
Mary turns us to Jesus 
When we pray to Mary, saints, and angels, our prayer is addressed to God alone. When we teach our children how to pray, let us avoid putting Mary and Jesus on the same level. Mary keeps nothing for herself; she constantly turns us to her Son.
The more our life becomes focused on prayer, the more we feel the need to rely on the Virgin Mary's intercession. The burning love of the Trinity drives us into her embrace, which is the refuge for all of her children.
Christine Ponsard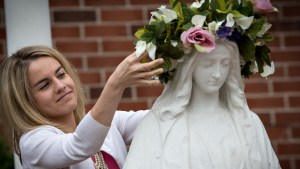 Read more:
This heartwarming May tradition will help your children love Mary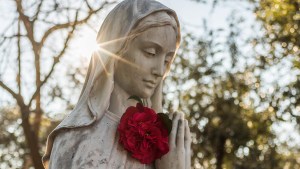 Read more:
10 Ways to honor Mary this May during quarantine