The Psalms can help us follow the path that God has laid out for us. Here's how to make them more accessible to kids.
The spiritual riches of the Psalms have sustained the prayers of David, of Mary and the apostles, of the early Christians — and of Jesus Himself. There are 150 Psalms laid out in five books, and like all the texts of the Bible, they were inspired by the Holy Spirit. Particularly rich, the Psalms can be adapted to men and women of all times and conditions. The images used in the Psalms clearly show that prayer is not something sentimental and disembodied. The language of the Psalms tells us that we don't pray despite our body, but with our body: our breathing, our voice, our arms, our eyes, our hands, our ears, and our guts.
The Psalms are the official prayer of the Church. The Divine Office, prayed by every consecrated person throughout the day, is composed mainly of the psalms. But if religious have the mission to pray them every day, the Liturgy of the Hours is in no way exclusive to them; many lay people take part in this great prayer of the Church. Many families draw inspiration from them to pray together, using in particular the morning and evening prayers found in the monthly Magnificat magazine. But how can we use the psalms to pray with children?
Consult the liturgy, choose a specific psalm, sing
There are several criteria to help choose the Psalms to pray with children according to our circumstances. You can consult the liturgy and use the ones from the Mass of the day or one from the Liturgy of the Hours. You can then explain to children that this particular psalm is being prayed on the same day by millions of men and women throughout the world. Another possibility: choose a Psalm according to a specific theme. For example, use Psalm 50 to ask for forgiveness, or Psalm 100 to give thanks. You can read the Psalm in sets of two or four verses, interspersed with the refrain. It can also be recited by alternate readers or, even better, it can be sung (for, don't forget that the Psalms were originally sung prayers).
Even though the Psalms may sometimes seem difficult, astonishing, or even a bit off-putting, it would be a shame to become disheartened and miss out on this treasure. Those who aren't totally at ease with the practice of the Psalms or find their number a little overwhelming could select just five or six from among the different themes and regularly repeat them. Children will very quickly become familiar with this form of prayer and memorize them. Then one can move on to a few others. The more we frequent the psalms, the more they live in our memory and in our heart to help us pray everywhere and always. Let's not deny our children this treasure!
Christine Ponsard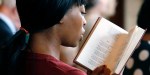 Read more:
How to get more than you expect from praying the Psalms




Read more:
If you have lost a friend or a relative recently, say this psalm for them