Here are the true stories of what moms have prayed while in the delivery room.
What can God do in your life with one Bible verse a day?
Subscribe to Aleteia's new service and bring Scripture into your morning:
Just one verse each day.
Click to bring God's word to your inbox
"The memory of all my deliveries seems to merge into one," confesses Cathy. "Leaving for the clinic with my husband in the dead of night, when kids are asleep. Apprehension mixed with a feeling of intense joy at the thought of finally meeting our new baby." Why are there so many people dying and being born at night? According to Elizabeth, it's because birth is a miracle. It is so mystical that it requires the cover of night (like a cocoon of secrecy and discretion). The notion of time is lost in "labor." It's a moment frozen in time: there is no day or night, the pains grow stronger, and so is the bond between husband and wife. So, how does one pray in these crucial moments?
The beep-beep prayer
"I was not really thinking about the Virgin Mary during labor!" smiles Elizabeth. "But it has greatly influenced the way I recite my rosaries – especially the mysteries of Nativity and Crucifixion." "Sometimes you can recite a few Hail Marys. But both your body and mind call to God for help. You are totally overwhelmed," adds Cathy. "You must be present in the moment and accept what is happening to you. Everything is beyond your control. You can only trust in God and accept …"
But how do the future dads approach prayer when their wives' waters have broken and they themselves are on the verge of a nervous breakdown? Mark, the father of three, shares his secret, "The baby wasn't coming and my wife was in pain despite the epidural. I was exhausted and couldn't sleep. The beep-beep of the monitor was splitting my skull. So, I mentally attuned the name Jesus to the sound of the monitor. A strange mantra emerged in my brain, it sounded like this: 'Beep, Jesus Christ, beep, come quickly, beep, Jesus, I call onto you, beep, and also you my baby, beep …' This heartfelt prayer calmed me down." In extraordinary circumstances people pray any way they can.Another experience: "I was in a state of bliss," says Ian, a poet and the father of two boys. "With the sound of the monitor I imagined myself traveling through space inside a capsule, bathed by red and blue lights … Every birth is something cosmic."
The awe
"Cosmic" is also the word that Agnes uses in describing the birth of her first child. "The delivery lasted 15 hours," she says. "But I felt like I was involved in something so much greater. The pain of giving birth brought me closer to the beauty of Creation." "I was moping around in the hall, because I can't look at blood," adds her husband Philippe. "What was my prayer like? A few Hail Marys … One thing is certain: God was present in all that confusion."
Nights at a maternity clinic consist of moments of silence and intense activity, of anticipation mixed with joy and fear. Around three in the morning, when the baby arrives, God Himself prays within us. "It's almost always a joyful moment," says one midwife always surprised by the awe the new parents feel. "There is something beyond them, something that has nothing to do with what they planned. It's him, her and this baby!" she says. "This child has never been seen and now it is theirs. Often, young parents give praise to the Lord in one way or another. One young mother told me, 'When you put the baby on my belly, telling me that I was now a mom, I wanted to say thank you. Thank you to someone I didn't quite know … But I wanted to say thank you anyway!' Perhaps this too can be a prayer?"
Luc Adrian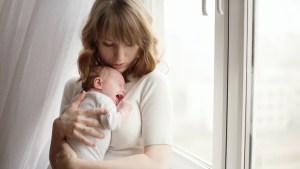 Read more:
How to recover from a difficult delivery
Read more:
Here's what to expect at the hospital if you give birth during the pandemic