A few tips from nutritionists on how to get children to eat nutritious food without meltdowns.
What can God do in your life with one Bible verse a day?
Subscribe to Aleteia's new service and bring Scripture into your morning:
Just one verse each day.
Click to bring God's word to your inbox
The basic function of food is nourishment. Then there are our personal tastes and the traditional family recipes we pass on to our children. Our relationship to food is complex, however, starting from the time we are babies. Just ask moms how meals can be! Kids can be very fussy, they can throw their food or play with it, they can make meal time rather chaotic. For many parents, eating healthy is a priority. "During my talks I always ask 'What makes a good parent?' and the majority of them reply that a good parent makes his children eat vegetables," says Myriam Alexis, a French child nutritionist. "Teaching children how to eat healthy is vital for most, and naturally it becomes a source of tension for most."
Bad habits to work on
Even radio and television constantly tell us how important it is to cut down on fats, salts or sugars and eat our five fruits and vegetables a day. The threat of obesity looms practically over every household. "This mantra about watching our weight and what we eat is sometimes difficult even for parents to observe. They don't always apply to themselves what they preach to their children," notes Myriam Alexis.
Of course, bad eating habits need to be corrected. But Alexis also mentions parents who subject their children to extreme dieting, essentially excluding whole groups of food. Pediatricians and nutritionists are there to remind us that it's vital to propose to young children a healthy and varied diet.Good eating habits are acquired early on, with the help of techniques adapted to children under the age of three. As for older children, they must be reminded not to snack too much between meals or stuff themselves with cookies and try a little bit of everything. But the relationship to food is completely different with young children, especially those who haven't yet learned how to talk.
Food must be a pleasure
When young children refuse to eat something, many professionals advise against transforming the whole experience into a conflict. "It's vital to never fight about food, because this is exactly what blocks children," observes French pediatrician Philippe Gandsenne. This opinion is echoed by his colleague, Dr. Victoire, who reminds parents that if their toddler is refusing a bottle they can always try some yogurt. "It's important that parents learn how to be flexible: food needs to be a pleasure," she says. "Little kids understand fairly early on that the issue of eating is vitally important to their parents. So, quite reasonably, they use food to show how they feel. Food is both great for bonding and for fighting. With food, they have their perfect weapon to show their discontent, especially if they can't talk yet."
On top of its function as nourishment, we need to take the underlying psychological and emotional factors into account."It's important that you abstain from praising a child when he is eating well or criticizing him when he is not eating at all," says Stefan Kleintjes, a Dutch child nutritionist and an author of numerous books on the subject. "Children want to be loved and usually do what their parents tell them. So, don't attribute too much importance to food." According to him nothing works better than setting an example. Taking meals together as a family is probably the best way to teach children how to enjoy food. "A child grows up in observing those around him, his parents, his siblings, his friends … This concerns all the stages of his development, including learning how to speak, walk and eat," explains Kleintjes.
Bringing back the family meal
Myriam Alexis also insists on the tone set at family meals. "Most parents are focused on what their children eat, but the ambiance around the table is by far more important. Until they reach the age of 10 or 12, the non-verbal communication takes precedence over the verbal one." Cara, the mother of a two-year-old boy, tells how her son refused to eat and fidgeted at the table "Before that he'd been so cooperative. He wanted me to sit with him, talk to him and even share food with him. And one day it stopped, mealtimes have become peaceful again: for him as for me these are special moments," she says.
So, bringing back the family meal is vital to teach our children how to appreciate a variety of foods. Older children (between the ages of 4 and 7) can even help out preparing desserts they like. This is another way to teach them how to enjoy a meal.
Ariane Lecointre-Cloix
Read more:
The recipe for a great family meal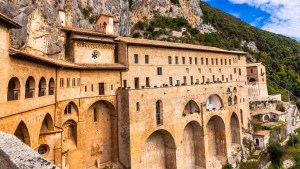 Read more:
5 Monasteries keeping ancient monastic recipes alive