We are all called to it, but how does it apply to our daily lives?
What can God do in your life with one Bible verse a day?
Subscribe to Aleteia's new service and bring Scripture into your morning:
Just one verse each day.
Click to bring God's word to your inbox
God calls upon us to lead a righteous life here and now. Remembering and relying on our past experience is obviously important, but it wouldn't do us any good to become overly nostalgic or brood over our past mistakes. Let us give thanks to the Lord, ask forgiveness for our sins and concentrate on what is rather than on what was.
The same applies to the future. There is always a risk that we may wait for better days to come or fret about tomorrow, instead of remembering that we must prepare our own future today. "Therefore do not worry about tomorrow, for tomorrow will worry about itself. Each day has enough trouble of its own" (Matt. 6:34). So, let's avoid these pitfalls and look for righteousness in the smallest aspects of our daily life.
Let us give the priority to our duties
A father of a big family doesn't have the same responsibilities as a monk or a college student, each of them must accomplish the tasks pertaining to their state in life. The Lord may ask us for something extraordinary as He does of some great men and women in the Church. But generally, He asks us to complete our daily tasks with love.
The path to righteousness lies in doing homework, washing dishes, taking the garbage out…When a plan, no matter how wonderful it is, distracts us from our responsibilities, forcing us to neglect our family or our professional obligations, we can conclude that it doesn't come from the Holy Spirit.
"God have mercy on me, a sinner"
Those who attempt accomplishing God's will without mercy risk becoming swollen with pride or fall into despair (if I perform good deeds, I may conclude that I've attained righteousness all by myself and if I cannot stick to my resolutions I may become discouraged). Either way, I won't be able to preserve the humility needed to receive God's love.
Even if righteousness concerns our concrete deeds, it's a gift from God. Mercifulness lies in our ability to forgive and ask forgiveness on daily basis, in our goodness that prevents us from judging others too harshly; in the way we recognize our own limitations and ask the others for help, in the humility of our prayers.
Cultivating our talents
We must avoid false humility, because it conceals cowardice and laziness. The "humble will be exalted," but sometimes it's so much easier to become the last and be dispensed of all responsibility. Humility is the truth – it allows us to see all of God's treasures, and remember that He has entrusted them to us, so we fructify them. Righteousness is being where God has placed us: whether as a CEO of an international corporation or as a cashier in a local supermarket, as long as it's our vocation.
Let us look for the Kingdom of God and the rest shall be given to us. Let us make choices based on our vocation to be righteous. Set our priorities, especially in what concerns education. If the goal is to teach our children how to become righteous, many other preoccupations will seem secondary.
Let us choose the "best part" without fretting over something pointless, let us stop worrying about what will happen or put all of our energy into earthly ambitions: their importance is relative when compared to our immortal vocations. Let us simplify our lives and accomplish the will of God.
Christine Ponsard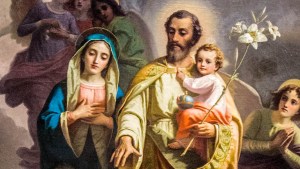 Read more:
St. Joseph was more than "righteous"; he was courageous
Read more:
6 Saints who found holiness in forced isolation