The shapes they draw and colors they use can communicate their feelings and needs.
What can God do in your life with one Bible verse a day?
Subscribe to Aleteia's new service and bring Scripture into your morning:
Just one verse each day.
Click to bring God's word to your inbox
Psychologist Antoinette Muel explains: "There are similarities that come out in the drawings of children at the same age and the same stage of psychomotor development. However, their perspectives on the world around them are completely personal, which makes it tricky to 'objectively' interpret what they draw. A child's world is different from the adult's: it is a world where logic does not exist, and imagination reigns over reality and reason." And psychoanalyst Martine Bacheric states that "the child engages with his drawing as if it were a painting that expresses what he is experiencing in his relationships with others. He brings in the information to be interpreted through what he draws."
Strikinglyspontaneous, unsettlingly truthful, at times specific and direct, children's drawings are intriguing. What can we learn from these sketches, these prodigious inspirations, these patiently elaborated works of art?
Drawing through the ages
Up until two years of age, a child is only interested in movement, lines, patches of color, and strokes on the page. It is the age of scribbling, and there is no intention to represent objects. Movements and gestures are not controlled. Between two and three years of age, the toddler discovers an analogy between objects and outlines—a phase referred to as "fortuitous realism." The child gradually tries to reproduce real shapes, and it is a difficult thing to learn. Initiated and encouraged by the child's surroundings, drawing becomes symbolically representative. Between three and four years of age, drawings represent the perception the child has of reality. And this is where we can learn something. This is the state of "frustrated realism." Between five and seven years of age, the child begins to draw what she knows, but not what she actually perceives of an object—this is the phase of "intellectual realism." It is inspired by an "internal" model, out of which come doodles, outlined houses, and drawings that have yet to include perspective or proportion.
Between seven and twelve years of age the child reaches the stage of "visual realism" in which perception takes on an intellectual character that includes a preoccupation with objectivity. The child progressively adopts adult spacial conceptualization. Martine Bacherich clarifies: "At this age, the young person begins to produce less extravagant drawings, because they are at a point of adaptation and are very sensitive to what is going on in the cultural environment. Drawing takes a back seat, interest in it dissipates. The adolescent draws more conventional and stereotypical things and finds it more difficult to engage his imaginative representations, his emotions and his internal behavior through drawing."
When a drawing says a lot about a child
According to Dr. Aubin, who works at psychiatric hospitals, "it is essential to observe the development of drawing, in time and space. Many children are uneasy until they have filled the whole page with calming signs (rain, snow, clouds, birds), while others will only use a tiny part of the page. You need to pay attention to clarity, dimension, dynamism, originality, and assess the first stroke and those that follow, what is erased, crossed out, repeated, note spontaneous comments. Are the movements large and spontaneous or reserved and timid? Are the strokes firm and strong or light?" All these indicators are well known by graphologists, who also widely collaborate on the interpretation of children's drawing because of their knowledge of writing.
A drawing can reveal much about a child's character. For example, a sensitive child doubts, erases, crosses out, and forgets important details. Their writing style is irregular, uneven, sometimes shaky. Certain elements may show a desire for security: arches, rainbows, magic circles. Doodles might be too large or too small. On the other hand, a child who is not sensitive has a writing style that is thin and clear, with regular, balanced strokes, and works in the center of the page, producing a sketch that is well proportioned. An active child shows a good level of legibility with a firm, clean stroke. This child starts quickly and intensely works to obtain the desired drawing. To draw a person, this child prefers to use the sheet vertically. An inactive child draws slowly, dreamily, with frequent doubts andchanges of mind when faced with even minor difficulties (hands, feet). This child leaves the drawing unfinished and legibility is not a strong point. The drawing is rudimentary, and features are bland (arms hang down). With an extroverted child, the drawing is improvised and not very organized. This child moves around a lot, and pays attention to what is happening at the moment, in the room, focusing on what is new, what is unplanned. This child's drawing is often larger than normal. An introverted child draws in an orderly and methodical manner. The representations reflect an interior world. The style is serious, the strokes are small, hard and dense. This child has a tendency to center the sketch in a corner of the page. The figures are often drawn from a side perspective and can be small in size.
Pay attention to shapes and colors
Children are attracted to bright, shiny colors. They often express emotion or sadness through colors that are dark and dull. Red is the favorite color of an intense, passionate, fighter child. It is also the favorite color for very small children. If a child switches from bright markers to soft-tone pencils, they may be showing a bit of shyness. A very colorful drawing reflects a happy and lively nature.
Water can symbolize the mother and, likewise, the ambivalent feelings the child may feel toward her. She is fertility, the womb, and introduces a beneficial feminine element that is very revealing of the emotional life of the child. The sea also designates the unconscious in all of its depths. A strong sun evokes lightness, warmth, security. It is the paternal image that, when accepted, shines at its zenith or, set discreetly behind a mountain, may be feared. The sun can also represent an authority or a "paternal" image of substitution: a grandfather, a teacher, a doctor, a boy scout leader, etc.
In terms of interpreting images of the house, it is the closed space par excellence. When we see light inside the house it represents a certain protection and cozy warmth, with a welcoming chimney, with windows and doors open to the outside. In it we can find both the best and the worst: it can be a treasure-filled cave or a den of ferocious beasts. If there are no windows or chimney, it becomes a prison with no way out. On the other hand, if the walkway leading up to it is wide and flanked with flowers it shows the possibility of getting out and, thus, exteriorization. But if this walkway becomes an inescapable labyrinth or perhaps even goes nowhere, it indicates a situation with no way out or filled with difficulties.
Be prudent when interpreting the drawings of children
When faced with a puzzling drawing, can we deduce that there is suffering or something amiss? And on the contrary, can the equilibrium of a child be measured in a drawing?
"Parents should resist the temptation to project an explanation of what the child has created on paper—it is something too delicate and can be dangerous," states Jacqueline Besson, graphologist consultant specialized in child writing and drawing test interpretation. "However, with a simple glance it is possible to note if the work in general gives an impression of balance and harmony. Everything that is in proportion, flexible, varied, lively, colorful—and this is the case of the immense majority of drawings—should be valued. On the contrary, if there is too much exaggeration, out of proportion themes or images that continually come up—everything that is transmitted in an obsessive way, excesses of any kind, too much of 'everything' or too much of 'too little' can correspond to some difficulty the child is having.
At Martine Bacherich's clinic, children sometimes draw cracked walls or upside down objects. "This can express a certain fragility in the absence of cosmic organization: no sun, or too many suns, a depressed child will make drawings in just brown or black … But the drawing is useful for us, above all to sense the story the child is telling, because he is drawing a part of himself. It is important to keep in mind that in no case can you interpret a sign in isolation. Nothing has meaning outside of its greater context."
"Often the child is under the influence of diverse emotions," explains Jacqueline Besson. "One day the drawing might be dark, and the next, bright and colorful. Drawings are very immediate. Parents just need to use common sense to avoid hasty and alarming conclusions. In some cases, especially if there are other related symptoms, the parents may have the feeling that something is wrong and should certainly search out the advice of a specialist, if only to put their mind at ease."
Agnès Salliard du Rivault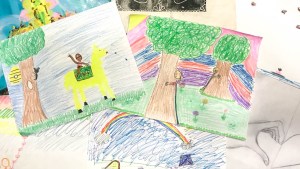 Read more:
What children's art can teach us about ourselves
Read more:
Why play is so important for children