Spiritual maternity concerns all women, including mothers of families.
What can God do in your life with one Bible verse a day?
Subscribe to Aleteia's new service and bring Scripture into your morning:
Just one verse each day.
Click to bring God's word to your inbox
Spiritual motherhood is first and foremost "giving birth to adult life." After giving birth, or taking a child into one's home, that child needs to grow and mature in order to one day spread their wings, they need help to attain the full stature of adulthood. After that it's a question of helping a child to realize that for which they were created: to love God, the Father, Son, and Holy Spirit, and to allow themselves to be loved and transformed by Him, until they become that unique masterpiece God wishes them to be. The spiritual mother helps her child to grow in faith, hope, and charity, through the transmission of the great truths taught by the Church, grounded in the sacramental life and the word of God, explains Father Roger Nicolas.
The mother, the primary educator on the spiritual level
Example and witness are worth more than fine words. "If faith is vital for the mother, it will be vital for the child," Father Nicolas confirms.
"I watched my mother go to Mass every day with such fervor," confides Florence. "She didn't need to preach at me to get me to go every Sunday. Her example was enough." But that doesn't exempt a mother from the explicit communication of the faith through words. How many saints, or simple Christians, have not learned the great prayers and truths of Christian life at their mother's knee? Zélie Martin invited her daughters to "add pearls to their crowns," that is, by doing good deeds or making little sacrifices "for the conversion of a sinner," or "to console Jesus."
Florence taught her children to experience the communion of the saints: "My 11-year-old daughter suffered a big setback at school. I felt her terrible hurt. But I suggested we offer up her pain together for a Japanese child who had lost everything in a tsunami."
"Children must learn how to offer up sorrows as well as joys," agrees Olivia, who "never misses a chance" to encourage her children to give praise and thanksgiving "for all the gifts God gives us, and that we must know how to recognize them." So, being a spiritual mother is to give thanks with one's child and rejoice in their joy. Or to sympathize with their suffering and, together, help them to overcome it. "It's taking part in Mary's motherhood, singing the Magnificat before Elizabeth, suffering with her Son at the foot of the cross, and offering oneself up along with him to his Father for the salvation of the world," explains Father Nicolas.
The power of a mother's prayer
It's also about teaching a child to say "yes" — firstly, in little things, through obedience to a teacher and obedience to one's given tasks (like doing one's homework, setting the table), so that one day they may do so in big ones. More broadly, it's to teach a child to do the will of God. It's also, as St. Monica did for her son Augustine, offering up her personal prayer for her child. This is the mission of the "Mother's Prayer" movement, now spread throughout the world.
But a mother's heart is greater than the Jerusalem Temple — the spiritual motherhood of a mom goes beyond the circle of her children. It is joined to that of contemplatives and, more widely, to all the baptized, working for the good of one's neighbor, whether that be the next-door neighbor who confides in her or the missionary on the other side of the world whose name or difficulties she doesn't even know.
"To be their spiritual mother," explains Father Nicolas, "is to bear them in your heart, to entrust them, with all their human and spiritual worries, to the Lord — not to ask for any particular blessing, because we cannot know God's will, but that he carry out his loving plan for them." More widely, it is to offer up and pray for souls. For their salvation and, even better, their sanctification. "Bring forth souls for God," the Church tells us. And in that, the mother and the Carmelite are one.
Spiritual motherhood through the gift of self
But a mom's spiritual motherhood doesn't stop at prayers and offerings; it is experienced through the gift of self, through truly concrete charity, materialized through acts of helping, listening, visiting … in short, through loving. For a mother, the closest neighbor is one's spouse, the father of one's children. He too needs the tender, generous, and understanding heart of his spouse.
"A mother loves with an indulgent, compassionate heart, at the ready to understand, to console, to forgive, in the image of Mary," remarks Father Nicolas. "When a woman is in labor, she has pain, because her hour has come. But when her child is born, she no longer remembers the anguish because of the joy of having brought a human being into the world," St. John tells us (Jn 16:21). Spiritual motherhood is the reflection of motherhood according to the flesh: the cross is mingled with joy. To experience all the fecundity of motherhood, Mary is a precious aid: "At one and the same time, she is our model, from the Annunciation to Calvary, and our help, in light as well as in darkness," Father Nicolas concludes.
Elisabeth de Baudouïn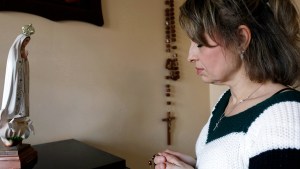 Read more:
The beauty of spiritual motherhood, according to John Paul II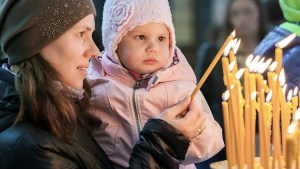 Read more:
How to be a "spiritual mother" whether you have kids or not