Things are bound to change and must adjust, but marriage is a great opportunity to rediscover what friendship really means.
Need an idea for Lenten almsgiving?
Help us spread faith on the internet. Would you consider donating just $10, so we can continue creating free, uplifting content?
Make a Lenten donation here
"When I first got married, I never dared to organize anything with my friends," confesses Anne, who's been married for two years. "I preferred to stay at home with my husband … but mostly I kept myself from doing what I used to do before. Deep down inside, I was feeling kind of bad about it."
For 34-year-old newlywed Antoine, it was the opposite: "For the first month, I used my free time like I always did," and his wife soon let him know how she felt: "She felt excluded and abandoned, but I didn't want to stop doing what I always did."
These two testimonies show us that once married we need to reorganize the relationship we have with our friends. Is it still possible, or even okay, to go out with the girls like before, or spend a weekend with the guys? Where's the middle ground between going out too much with friends and a stifling married life with no social contacts?
It's not a competition between friends and spouse
Marriage counselor Benedicte Lucereau states: "Friendships are necessary for married life. We cannot live in an isolated bubble." And Father Jean-Miguel Garrigues reminds us that conjugal love and love between friends "are actually two different worlds that complement each other, and in order to be complementary, they should remain separate." What this means is that they are not in competition with each other: it takes time to find the right balance between completely abandoning friendships versus not changing our habits at all, to "convert our friendships to the right path."
A lot of times, friendships get sorted out after you're married. "When I explained to my friends that I couldn't meet them at all the soccer games, some of them didn't understand," says Antoine. "They thought my wife had told me to stop seeing them. I got offended by that, and gradually those bridges were burned." These ruptures often come about naturally, without us being consciously aware of it. Alice, married for three years, recalls: "After a few no's, some friends stopped calling me as much."
Friendship between spouses is the foundation of conjugal love
In marriage, we commit to making our spouse our primary confidant." Lucereau goes even further by noting that "the true foundation of conjugal love is not amorous love: it is friendship." Friendship is, ultimately, one of the main things that keeps life as a couple going strong. "Friendship is what really lasts and develops. As time goes on, what we looked for in friendships before getting married is what develops in the very heart of a conjugal relationship."
Understanding this dimension is not always easy, but it is essential. "I really began to understood that I was Hubert's wife when I stopped feeling the need to tell my friends everything," explains Helen. "After all, he's the one who knows me best!" For Alice the change did not come so naturally. She was accustomed to telling her two best friends everything: "I was not very discreet, I would say too much, and my husband was uncomfortable with that." Then something occurred that made her realize she had to change: "Now I don't say so much in respect for our private life. When I need advice, I know which friends I can talk to and how much to tell them, and what the limits are that I should respect." In terms of how much to tell, there are no set rules, but there is one good criteria: trust. Through love, a spouse can come to understand that his or her partner confiding in a friend can be good for their relationship, because this is a trusted friend.
However, things can get complicated when there is a lack of trust, when our partner feels that what is talked about will harm the marital relationship or work against him or her. "I do have one good friend I can tell things to even after getting married, because my husband knows her well. I feel that he trusts her criteria."
When and how should we re-evaluate our friendships?
According to Father Jean-Miguel Garrigues, "Friendship is when we reveal the secrets of our heart to another person, it is the gift of trusting someone with what is most precious to us." Thus, a Christian couple should ask themselves: "Is this friendship from the heart?" "Do I feel free with this friend?" These are valuable criteria because they can, for example, help newlyweds choose their witnesses for friends, confident that they will stay by their side for the adventure of marriage.
In this context, the early years of matrimony are decisive, because what is being played out here is highly important; this is the moment when the "conjugal community" (as Benedicte Lucereau puts it) is being constructed. "In this construction, sharing personal intimacies is very important." An act of sharing which, with the passage of time, will bring about what St. John Paul II calls, in his theology of the body "the communion of spouses." According to the therapist, the friendships that we had before getting married need to be "re-evaluated in terms of the conjugal community being constructed."
Accepting a spouse's friends doesn't always come easily!
When a couple is married at a young age, like Helen and Hubert, the break with friends is less apparent because, as Benedicte Lucereau clarifies, "the two become adults, i.e., complete the construction of their life as adults, together." But when a couple is married after 30, the transition is more severe and can be more painful. Alice confesses, "It was hard for me to stop planning my social life like before."
In spite of the difficulties, and depending on the way the couple deals with it, the shift brought about by marriage clarifies friendships. "I know now who I can really count on," says Alice, who has "friends" that have criticized the changes her marriage provoked in their daily lives. "That opened my eyes," she explains. "I realize now that I was hanging on to friendships that were going downhill for years." For her, marriage has been a "revelation." Talking to her husband, she realized that some of her friendships were quite superficial and actually based on obligations. "Now I confide more things to him because I know he is the best judge!"
Another challenge: accepting your spouse's friends. This "conjugalization" of friendships by newlyweds, according to sociologist Matthieu Loitron, does not happen naturally. "When we are falling in love, we unconsciously expect our partner to share everything, even friends," says Benedicte Lucereau. "But that is not always possible." Accepting something that we do not like in a partner's friend can be difficult … The therapist advises: "Make an effort to discover what is interesting about that person, what motivates your partner to seek out that friendship. In any case, she notes, "You should never look down on the ties of friendship your spouse has, because friendship is a true gift." Not only that, but it also lets you see what your spouse is like in different contexts.
From each other's friends to "our" friends
In a deeper sense, friendships help newlyweds "avoid total isolation, they are like a breath of fresh air," explains Lucereau. "Friendships help the couple enrich their relationship because they bring them, as a couple, into contact with others. And friends also help the newlyweds create a home. "The impulse that comes from the heart to have children is the same impulse to have friends," assures Madeleine. Enjoying friendships together is a rich part of marriage. 
Friends are, without a doubt, those whom we relate to as a couple, and form part of the history of that relationship. Lucereau considers the friendships that a coupleshares a "priceless gift" — one that proves its worth through the difficult times and becomes a true source of support.
Anna Latron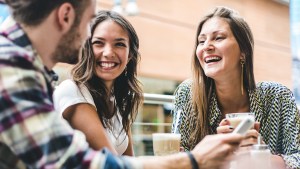 Read more:
3 Ways to approach friendship as Mary did
Read more:
7 Threats to friendship