It's not always easy to refrain from gossip and lies, but there are several ways we can turn away, including these prayers.
What can God do in your life with one Bible verse a day?
Subscribe to Aleteia's new service and bring Scripture into your morning:
Just one verse each day.
Click to bring God's word to your inbox
We've all been influenced by the power of words: words of encouragement and love, words said in anger or words of criticism. Years later, some words can remain engraved in our memory when those who uttered them have long forgotten all about them. A well-meaning remark can be life-transforming, but it takes only a few sentences to destroy someone's reputation.
In his epistle St. James wrote:
We all stumble in many ways. Anyone who is never at fault in what they say is perfect, able to keep their whole body in check. When we put bits into the mouths of horses to make them obey us, we can turn the whole animal. Or take ships as an example. Although they are so large and are driven by strong winds, they are steered by a very small rudder wherever the pilot wants to go. Likewise, the tongue is a small part of the body, but it makes great boasts. Consider what a great forest is set on fire by a small spark. – James 3:2-5
A word uttered cannot be taken back
As with all God's gifts, we can use our tongues for better or for worse. But the fear of stumbling should not plunge us into silence. If words can hurt, they can also bless, console, encourage, or simply bring a smile to a face.
We must learn how to "steer" our tongues well, by carefully weighing our words.
A word uttered cannot be taken back: we may ask for forgiveness and make amends. But wouldn't it have been better to have held our tongue instead?
"Set a guard over my mouth, Lord …"
Pope John XXIII possessed a lively intelligence, but avoided uttering witticisms to spare the feelings of those around him … although it made him seem less spirited than he actually was.
"Set a guard over my mouth, Lord …" (Ps 140:3): while we are nonchalantly chatting away or discussing some serious matters, this prayer must be in our hearts. In a split of a second it will turn us to the Holy Spirit and attune our hearts and words with it. To avoid "slipping up," let us entrust our tongues to the Lord, so He can steer us through the torrents of words.
The ability to speak is not measured by the quantity of words
Some people love to talk, other not so much: but both must learn how to use this divine gift of words. First, we must consider our qualities. For all their timidity, reserved individuals are keen observers and good listeners. But having "the gift of gab" is not that bad either, as long as it's cultivated to serve others. The problem is that often talkative people are not very good listeners and do not weigh their words carefully enough. They must also learn that to tell the truth, they don't need a ton of words. As for the "tongue-tied," they must remember that by opening their mouth they also open their hearts.
No matter our temperament, the ability to speak is not measured by the quantity of words, but by the love they convey. They must only come from the generosity we feel in our hearts.
Christine Ponsard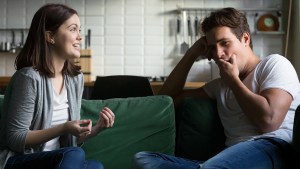 Read more:
Is it gossip when you talk with your spouse about other people?
Read more:
How to make sure small talk doesn't turn into gossip