Dads, there are special moments that you can share with your son that will make a lasting impression.
It takes a long time to become a man. While a father's presence is needed throughout adolescence, there are key moments that can help a boy progress through the phases on his road to adulthood. Let's look at the importance of these "rites of passage."
Rituals mark a new phase in the life of a child
"I never did much of anything that was very memorable with my father; he was always too involved with his job, and I felt something was missing. So for my part, I have tried to mark the beginning of our children's adolescence with some type of initiation," says Allen, a father of four boys. He decided to take his oldest son Ethan, who was 16 at the time, to do a stretch of the Santiago de Compostela pilgrimage between two towns in France. "The pilgrimage is symbolic. I am putting my son on the path of life, I show him the direction. But he is the one who will have to walk it, and mark out his route and ultimately come to the end of his own journey on this Earth," shares Allen.
Spending this privileged time together brings to light the necessity of a different kind of father in today's society, says Oliver. "When I was a boy, an absent father was not as problematic as it is nowadays. In our society, where virility is being questioned, I think that it is more important than ever for a father to be a strong presence in his sons' lives."
To help a son transition from childhood to adolescence in a society where rites of passage have gradually disappeared, a father can create special moments whose intensity will leave a strong impression on him, create a memory to be shared and allows for passage from one phase to the next. And this can begin long before adolescence sets in. "When they turn 7, I invite them to a restaurant, just us two, to celebrate the age of reason," recounts William, father of a large family. "I can have a real conversation with them. We talk about what they want to do in the future. It's a stage that has become a ritual. The older ones talk to the younger ones about the years to come."
Sharing and creating a sense of belonging and continuity 
A father can also rely on family traditions to create a connection with his son. "Every summer, the grandfathers, fathers, and sons get together at a family cabin," says Denis. "We have the custom of taking a week to walk 20 kilometers up in the mountains. Last year, 7-year-old Gabriel came with us for the first time. The grandfathers were tired and didn't come with us. I think my son understood that he was taking his place in the family tradition. Sometimes I imagine him going on this walk with his own boys! We left at dawn and caught sight of some antelope and marmots.  For me, this hike is a way of waking my son up to the beauty of Creation, in a place that feels like paradise. It is very moving for me and I think he sees that emotion in me. While he's normally quite a chatterbox and never sits still, during the whole hike he was immersed in a contemplative silence."
The habit of sharing or creating a feeling of complicity prepares the way for adolescence and its grand questions, including sexual identity and relating to girls. With his three sons, William waited for the right moment: "When I feel that they have definitely started puberty, I look for the right moment to have an intimate conversation about love. I talk about what is going on with their bodies, their desires. I talk about what I experienced with their mother, I talk to them about how to be prepared to experience true love, how to treat girls. I talk to them naturally, without over dramatizing things. But I remind them that man is a warrior and that self control is one of the conflicts they will have to confront."
This more or less simple conversation, depending on the father, helps to establish the basis of their personality, but it is not enough in and of itself. "Without a doubt, I think it's important to talk to them about this," admits Edward. "But children need to be able to see the same message outside the family, at school, for example. In fact, perhaps the most important thing is the way the father behaves with his wife. Does he behave toward her the way Christ behaves toward the Church?"
Meaningful actions that last into adulthood
Conversations are important, but often actions are stronger than words. And that is why it's important to have some kind of adventure together during your son's adolescence. "Every time one of my sons turns 15, we spend an entire weekend together," says William. "I take him to some surprise place, depending on what he likes. The idea is to get away from home and discover something new. I see it as a rite of passage to adulthood. For example, I took one of my sons to a vacation home we had just purchased, which was up in the mountains. We inaugurated the house together, it was like taking charge of the territory."
An adventure together can offer the boy the possibility of doing better than his father, to score points, a clear sign that he is transitioning. "We were on a family vacation in an RV. When the RV broke down, it was one of my sons who figured out the problem. The son triumphs where the father fails. I love it!!" another father explains.
Another gesture that can have the same symbolic weight as a rite of passage is to give the child a certain gift. While a wrist watch is not inherently meaningful except as a symbol of transmission, other objects can be useful for fomenting autonomy and responsibility, which must always, of course, be given at the appropriate time.
Using crises as opportunities
Important transitions can also be brought on by a crisis, where the teenager falls off the straight-and-narrow path. This is an opportunity for a fruitful exchange, and even for a new beginning. "The first serious error for an adolescent, shoplifting at a supermarket, for example, is a key moment, and the reaction of the father is crucial," explains professor of communicationGilles le Cardinal. "If the father does nothing but scold and condemn him, he runs the risk of losing the boy's trust. Without losing sight of the rules, you should also try to understand the teenager's point of view. It is also a moment for the father to admit that he is not perfect either. That is where a mistake can become an opportunity. The father shows that he is there to support his son, and is not his adversary."
This is what Phillip, father of two boys, experienced. "When my oldest was 17, he was punished at his high school for copying. I invited him to go for a walk and we had a heated conversation, without his mother, who tended to rush into punishment mode. I tried to get him to take responsibility for his actions by making him reflect on what he had done. Otherwise, he sees that all he has to do is complete the punishment and then is free to make the same mistake all over again. I think that talking it out created a greater sense of trust between us."
Helping them make the transition to adulthood
"We need to remember and convey that there is no freedom without responsibility. A conversation between father and son on this topic can be very helpful," says le Cardinal. We must also teach the true meaning of autonomy. "Being able to take care of things by yourself is true independence. Autonomy, on the other hand, is knowing how to ask for help and get advice for the things one wants to do."
Marriage can often constitute the last rite of separation. From the family of origin to the new family that is just beginning, a new witness takes his turn to write another story.
Cyril Douillet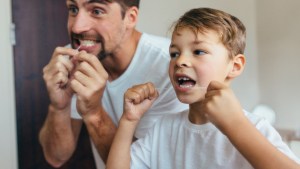 Read more:
The facts are in: Children need fathers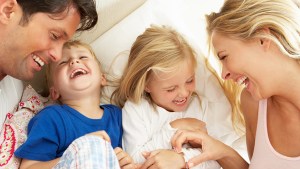 Read more:
The little rituals that bind family members together