The Bible isn't a financial guide, but it contains much practical and valuable advice.
What can God do in your life with one Bible verse a day?
Subscribe to Aleteia's new service and bring Scripture into your morning:
Just one verse each day.
Click to bring God's word to your inbox
Is it a sin to want to earn money, or even a lot of money? Are we supposed to flee from it, suffer from it, make it grow? What does it actually mean to responsibly manage money? Is it a necessary evil?
Regularly examining our conscience to analyze our relationship with money and material possessions can be a good way to improve how we manage our budgets. Father Pierre Debergé, author of the French book L'Argent dans la Bible — Ni riche ni pauvre(Money in the Bible: Neither rich … nor poor) offers some excellent advice on this topic:
What does the Bible say about money?
In the very first pages of the Bible, material wealth seems to be presented in a positive light, as if contributing to a person's happiness and, moreover, a sign of God's kindness. In fact, it is seemingly even considered a reward for a person's faith, while poverty is seen as divine punishment. However, Job would break this association between wealth and faith: through his own experience, he knows that the rich man is not necessarily a just man, and that the poor man is not necessary a sinner. The prophets, for their part, protest against those who get rich at the expense of the poor. In the Book of Amos the poor man, considered a bad person, gradually comes to be presented as the one preferred by God.
Are the wealthy condemned?
No. When Jesus says: "But woe to you who are rich!" (Luke 6:24) He is not saying they are cursed or condemned—it is more of a regret. Jesus feels sorry for those who are so satisfied that they no longer hope for anything from God or their brethren. The Word of God does not condemn wealth. But it does warn about its dangers. We have all experienced this. Money is fascinating, it makes us quickly fall into its web, it surrounds us with a false feeling of security. Before we know it, we let our guard down and come to trust it completely. It gives us an illusory happiness and in this way it keeps us from authentic bliss. That is why Jesus warned "Woe to you who are rich, for you have your only happiness now!"
How does Jesus himself look at money?
He knows the importance it has in everyday life, as many of the parables show. The Gospel of John actually mentions the existence of a money pouch Jesus and his disciples used(John 12:6; 13:29), and Luke talks about the women that followed Jesus and the other 12 who "were helping to support them out of their own means" (Luke 8:3). Jesus shows no negativitytowards money. In and of itself, money is neither good nor bad. It is an instrument. But, He insistently repeats, it is a dangerous one. These warnings especially stand out in the Gospel of Luke. For example, in the parable of poor Lazarus (Luke 16: 19-31): the rich man never even stopped to look at the poor man lying at his door; this blindness is his gravest sin.
Indeed, money stops us from seeing our fellow brethren. It puts up a wall that isolates us. It makes us blind and deaf. In the parable, Jesus says through Abraham that, "even if someone rises from the dead" to give the message, those who are prisoners of their wealth will not be convinced to change their lives. They are deaf to any challenge to their lifestyle, they listen only to the voice of money.
These dangers threaten all of us. It doesn't take much for us to become its prisoners.
So how do we avoid the traps of money?
By putting God first. Because Jesus tells us, "For where your treasure is, there your heart will be also" (Luke 12:34). You have to choose between "accumulating riches for yourself" or "being rich before God." In the first case, we are slaves of our money, i.e., of ourselves. In the other, we accept our basic poverty in order to let ourselves become rich through God. We learn to receive from God and, in the same stroke, from our brothers and sisters. This is not a moral choice, it is a choice of faith.
And how do we do that, exactly?
By praying and giving. In prayer, we dispossess ourselves from ourselves in order to receive from God. We allow the Holy Spirit to transform our entire life, even the most materialist dimensions. When we serve God, we learn to not ask of money more than what it can give us, we learn to use it in the truth of that which we deeply are: the children of God.
Regarding this divine gift, it shows our freedom with respect to money. The Old Testament calls upon us to give away anything superfluous. Jesus asks us to give away even that which we need. Sometimes we need to know how to give with passion, and be able to give at any moment that which God expects from us. How much? Each one of us has to decide. The Church Fathers teach that the more poor people there are, the more we should give. This sense of sharing and gratitude is a fundamental dimension in Christian education. And this is taught first and foremost by example.
Isn't money basically a necessary evil?
No! Money is a means given by God to be put to the service of everyone. Despising money is to despise those who vitally need it. We cannot pretend that money does not exist. On the contrary, we should look at it as a place God calls us to in order to serve our brothers and sisters. Despising money and idolizing money are, in fact, basically the same thing because in both cases, we are not seeing money for what it really is and we overlook our deep vocation to serve God and our fellow man with the means He gives us. Both perspectives separate our spiritual life and our daily life: on the one hand is God, and on the other is money in all its dimensions (emotional, social, and political). A true spiritual life should not veer us away from our specific obligations. And managing money is one of them.
How can the Word of God help us manage our money or the money of our business?
It establishes our priorities: choosing God is the only way to find the necessary freedom for the correct use of material riches. This freedom translates into a capacity to give and to give happily. But giving is not enough in and of itself. Divine giving should not be an excuse for laziness or wastefulness: it does not let us off the hook from responsibly managing our money. No one has the right to take money management lightly, especially, as often occurs with the Church, it comes from donations or church collections. Even when it is money we have earned through hard work, we cannot do just anything with it. It is always granted to us by the Lord to serve others. We are nothing more than its administrator.
How would you define responsible money management, in light of the Gospel?
No one should become indifferent to the scandal or sin that the presence of poverty—i.e. people who are involuntarily subjected to intolerable lives—represents. Any situation of poverty is an offence to God's very own being. It goes against His project, which aims for every human to be loved and recognized for what he or she really is.
Christine Ponsard
Read more:
4 Summer budget tips to help you save money while you keep social distancing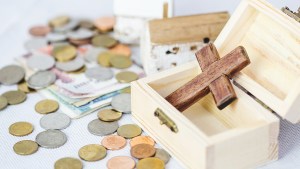 Read more:
3 Steps to figuring out our faith and finances