Clearing up the kids' toys, doing the shopping, emptying the dishwasher, fixing meals ... Here's how to do them with a smile on your face.
What can God do in your life with one Bible verse a day?
Subscribe to Aleteia's new service and bring Scripture into your morning:
Just one verse each day.
Click to bring God's word to your inbox
Raising a family is a great vocation. But time spent sorting out practical issues can feel very tedious. All the more so because they can feel never-ending. Preparing baby bottles, finding the other sock, changing the lightbulb, paying the bills …. as soon as you get it done, it's time to start all over again. Days of discouragement are guaranteed, but beware of burn-out.
Little strategies to set in place
The first source of discouragement begins when we lose sight of the end-goal of all our activities. What's the use of picking up all the kids' toys if they're only going to be scattered all over again tomorrow? The second source of discouragement is the feeling of coercion in the face of all these chores: somebody's got to do it, the socks won't sort themselves out. The third source is a feeling of being on your own: "If I don't do it, who will, my 8-month-old?" If you're fed up with the daily grind, there are several possible strategies…
Get organized so you can delegate, or even, if necessary, consider getting outside help if you have the budget for it. Organization isn't everything, however — a family isn't a business. The big difference? You can change a manager without damaging a company where no one is indispensable. Parents, on the other hand, are indispensable. They know they can't delegate their parental responsibilities to someone else, hence that gut feeling of being on your own. On that front, discouragement can't be dealt with by efforts of logistical rationalization. It's then that we have to recognize our endurance in the face of repetitive and, frankly, boring tasks is above all a question for our inner selves. To find joy in carrying them out, look at yourself through God's eyes.
Everything done for God is done with God
While we may feel ourselves alone, God considers us unique, as someone without whom the world would seem less bright. When our body is tired and weighs us down, He looks at this body with a gaze full of joy and admiration. Just as He said at the Creation, "God looked at it and found it very good" (cf. Gn 1:31). God looks at us as we are, not just people with lofty thoughts and noble intentions, but as physical beings of flesh and blood, who lug laundry baskets and stick Band-Aids on scraped knees. He sees, He observes, He admires. Even when we're changing that dratted light bulb for the umpteenth time.
So, the end goal of all our activities is not so obscure after all. It's just become a bit blurred, because what we do for others is most often done when they're not there. So decide to do it for the Lord: everything done for God is done with Him. Along with St. Paul, let us bless Him for having made us his co-workers. He rejoiced in creating the universe, so we can be sure He loves sorting out the socks out in our company.
Jeanne Larghero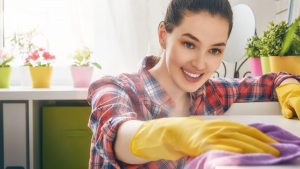 Read more:
These 5 household chores are perfect times for prayer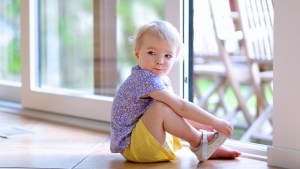 Read more:
5 Chores your toddler can surprisingly do