A little advice to help you objectively discern this big question ... and, finally, to take the leap.
Need an idea for Lenten almsgiving?
Help us spread faith on the internet. Would you consider donating just $10, so we can continue creating free, uplifting content?
Make a Lenten donation here
Many are those who suffer from indecision before marriage: "Is this the right person? Or did God have someone else in mind for me instead of the one I'm dating?" Marriage counselor Elisabeth Content offers a few keys to help your make up your mind about marrying someone.
How can I be sure this is the "right" one for me?
You can never be sure. Every choice involves some uncertainty, in this area as in all others. I reject that mistaken idea which is still widely held that there is a partner for you prepared in advance by the Lord, waiting somewhere. Some people have an odd idea of the will of God and Providence. The right one is the one we choose to love. And God promises to accompany us in our choice.
What are the criteria for making the right choice?
"Does the one I love help me to grow, to move forward?" If you're happy within yourself, happy to be together, relaxed, if you can remain yourself in the presence of the other — these are all good signs. It still remains, as Scripture tells us, that among the fruits of proper discernment in the Holy Spirit are those of peace and joy. This love has to shine! One final criteria: the desire to share, to exchange, to create an intimacy. In a strong affective relationship, the desire emerges to reveal oneself little by little, without fear of the other's view of you.
Do you have to be adult to know how to love?
An adult is someone who knows themselves, their faults and strong points. It's someone capable of making a choice not based solely on desires, emotions, or others' approval. To find one's own place in the world, we're all called to map out our own unique path before entering into a relationship. Solitude is necessary in order to live in one's own skin, without acting in conformity with or in reaction to the wishes of others. We can ask ourselves these questions: What is it I desire? Am I dependent on the views of others in the way I lead my life? Love is an opportunity to mature, to become a whole world for a loved one to explore.
When we hear it said: "The man will leave his father and mother," that doesn't just mean not living under the same roof, but looking to the future. Dependence with regard to one's family doesn't prevent this. But we have to cut those links that keep us bound in childhood, renounce thoughts of those ideal parents none of us ever really had, and accept, with just hindsight, one's family as it really is, with all its good and bad points.
How do we strike the right balance in a loving relationship?
That requires not looking for yourself in the other, not concentrating on yourself, moving from love of self to love of the other. To do so, you must first discover who you are. You must not look to another to fulfill something lacking in yourself. An adult in love is one who manages to strike the right balance, not too close and not too far.
One day I met an engaged couple. The young very independent woman felt stifled by her fiancé's clinginess. He was too demanding of her presence. We gave some thought to a balanced distance and, after a retreat, they were able to adjust and are now happily married. We're all inhabited by this conflicting pull: the desire for autonomy and the desire for fusion, but they coexist in varying intensity. Many blockages arise from failing to strike the right balance.
Some people expect everything from the other and demand constant attention. They're panic-stricken at the slightest disagreement, disappointed if their tastes diverge, or if they don't do everything together. Others, on the other hand, are afraid of the unknown, fear of being invaded, and so they flee into their own safe-zone. Neither attitude is well-balanced. It's a question of entering into an interdependence in which the desire to love and be loved is respected, in which each can become themselves without threatening the other. In which each knows who they are, knows their own needs, doesn't burden the other with them, who accepts the other despite disappointments or disagreements. For a relationship to be well-balanced, each must have moments on their own (that's the oxygen of a relationship) in order to then return to their loved one. But beware, it's not about seeking above all one's own personal fulfillment: in that case, the relationship won't go very far.
How should we make the decision to marry?
Once having identified the blockages, the wounds of the past, and the various fears comes the moment when you must build, for marriage is a construction. By dissecting everything, sifting through everything, you end up bogged down. Remaining in indecision is soul-destroying! For some, this is very difficult: taking a risk is scary, and marriage opens up a world of unknowns. Who will the other be in 10 years' time? All you can do is trust!
There's no such thing as serene decision-making: it's a source of questioning. Peace only comes once the decision is made. Making up your mind involves renunciation of some possibilities, and that's not always pleasant. Loving implies a choice. Until you choose, you don't love the other. We must be aware that feelings are important, but the will too plays an important part in the decision. Love involves a dose of the rational, even if that may seem contradictory.
Deciding is a leap in the dark, but a conscious leap. There's a big difference between committing oneself voluntarily, as an act freely taken, and allowing oneself to be led by events: "Let's just see how it goes." Is it life that leads us, or is it us at the helm? Some would like God to make the decision and send us a sign. But God doesn't act for us; the decision is ours, and we have the elements of discernment within us.
Getting married is to enter with joy into a battle, one of unconditional love of the other: "I love you because you're you. I'll quickly learn all your limitations, but I commit myself to accepting you as you are, little by little, and I know you will do the same for me."
In an interview with Florence Brière-Loth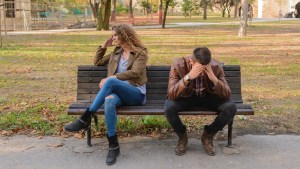 Read more:
Arguing during engagement: Is it a warning sign?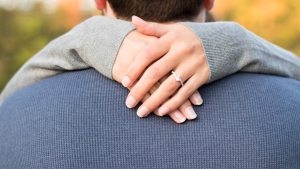 Read more:
How long should an engagement last?