Keep these points in mind when making and keeping friends.
Need an idea for Lenten almsgiving?
Help us spread faith on the internet. Would you consider donating just $10, so we can continue creating free, uplifting content?
Make a Lenten donation here
Philosopher, theologian, poet — St. John Henry Newman (1801-1890) cultivated friendships his whole life. Newman, who was canonized by Pope Francis in October 2019, had a true talent for striking up deep friendships with those who around him. Here we present the 12 key points he lays out for creating strong, authentic friendships. 
1
Friendships are a reflection of the Divine friendship
After a spiritual revelation in 1816, Newman came to the conclusion that there are only two absolutely real beings in the entire universe: "Me myself and my Creator." This new conviction would affect his relationship with all things and beings. It is from the essence of this fundamental relationship that our human friendships arise; like stained glass, or icons, they are a reflection the primary and original friendship. The dynamic of friendship, according to Newman, is a return to the Essence. While the world down here passes quickly, we should stay connected throughout our lives to Christ. Making this connection more tangible, more visible than this tangible and transient world is what Newman aimed for. 
2
We are predisposed to friendship
Newman attracted friendships like a magnet. He was both distant and very affectionate, a true Englishman! Some say we can only have one best friend in our lives, but he had dozens. As Cardinal, his motto was: Cor ad cor loquitur, "speaking heart to heart," and he had an outstanding capacity for making people feel welcome. 
3
Loyalty is the first and foremost requirement for friendship
Do they write to you? Write back. Do they speak to you? Listen. Do they ask you questions? Respond. Do they ask you for advice? Help them out and foresee their needs. After his conversion in the 1850s, Newman was asked to found the Catholic University of Dublin and be its director. He had the custom of attending all the classes and lectures—not to criticize, but to be there and show the students and the professors how attentive he was to them and their work. 
4
Friendships are maintained through correspondence
For Newman, friendship is kept up through visits, but also through correspondence. He wrote the amazing sum of over 30,000 letters! He would write between five and 10 letters a day, so it is clear that correspondence was a significant part of his friendships. Newman read Aristotle's Nichomachean Ethics (5th century BC) several times. This work discusses the art and science of friendship: its purpose, what you need to do to preserve it, etc. The aim of friendship, according to Aristotle, is not to make the other person become the same as we are, but rather to help him or her to become better than we are. Love in friendship is to want the best for that person. 
5
Friendship is not afraid of difference
Newman was never afraid of social or cultural "difference." He knew how to approach humble people, like the working class people of Birmingham, which so highly contrasted with the elitism of Oxford. At night, he would go around visiting the poor, helping them with specific needs. They were not friends in the strict sense of the word, but were his "fellow man" whom he loved. Upon his death, over 20,000 people from every walk of life and religious faith came to honor him. They went to salute the friend he had become for all of them! 
6
Friendship means keeping healthy boundaries
Keeping a certain distance is, according to Newman, a condition sine qua non for a lasting friendship: not just to keep the relationship from turning into a sterile emotional dynamic, but also to keep the perspective through which we see this friend, which means seeing him or her through the eyes of Christ. Through this perspective, the friendship is put to the test, put into clear focus, and even, if necessary, purified. 
7
Without truth there is no friendship
In order for friendship to thrive, it is necessary to love the person "away from shadows and illusions, in truth." However, the only one who allows us to truly love is Christ, who knows our friend better than we do. The truth of our fellowman passes through divine Truth. It is also, through compassion and grace, absolutely necessary for forgiving the friend who betrays, cheats, and lies. "There is but one Lover of souls, and He loves each one of us, as though there were no one else to love," writes Newman in his novel Callista. 
8
Friendship at the expense of liberty
To become Catholic, Newman was forced to decide between affection—always implicit in friendship—and truth. He makes this crucial choice when he is 45 years old and one of the most influential people at that time in England. With this choice, he is ousted from his community. He loses all his friends and will not get them back for over 20 years. He is left practically alone, accompanied only by a few recently converted Catholics who were significantly younger than he was, one of whom was Ambrose Saint-John. We cannot choose our family, but we can choose our friends. It can be a painful choice, but it can also be an act of grace as we find, together, a greater truth in ourselves. 
9
Accepting disappointment
There is one friend who never disappoints us, the "Friend of man," as the Orthodox Christians refer to Christ. All earthly creatures disappoint us because we always expect too much from them. Mistakes and disappointments can only be forgiven by God's grace. Friendship aims for something other than affection: it strives to help our friend develop and mature: "He must increase but I must decrease." In this sense, friendship is "useful" to help us mutually grow. 
10
Friendship takes time and energy
A certain physical distance is implied in friendship, but there is also a kind of "temporal" distance. Time allows emotions to mature and deepen in a relationship. Friendship is like soil that changes according to the season: it can be "warm" and summery in the beginning, then pass to a cold, desolate winter, then once again become warm. But a true friendship never really ends. Nowadays things happen so quickly and time goes so fast, which makes relationships seem more superficial. We should avoid falling victim to the modern constraints of time. 
11
A friend is a mystery
The most profound truth of a friend will always remain a mystery that can only be revealed in the hereafter. All we can do is try to get as close as possible: the secret will always escape us here on Earth. In the same way that we can never reach the core of our own being, we can never truly know the deepest core of our friends. The mystery of the other is boundless, and our own mystery is as well: we circle around our most intimate seed without being able to penetrate it. 
12
Our friends reveal who we really are
St. Bernard said: "There is what we think we are. And there is what others think we are. And there is what we are." Christ is the only one who knows that person. There is an unfolding between who we think we are and who we are. In a certain way, our friends are a reflection of our deepest self. To get close to that self, we should consider our friends: "Tell me who you love and I will tell you who you are." But a true friend is a rare find … You have to ask God for one.
Luc Adrian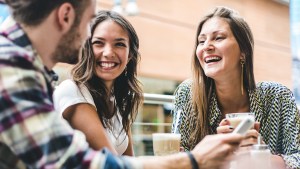 Read more:
3 Ways to approach friendship as Mary did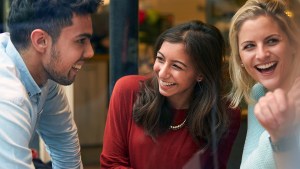 Read more:
How to keep your friendships strong after you get married