It's a noisy world, but God still wants to speak to us.
What can God do in your life with one Bible verse a day?
Subscribe to Aleteia's new service and bring Scripture into your morning:
Just one verse each day.
Click to bring God's word to your inbox
Sometimes, it seems that noise has become our modern-day idol. Modern man is addicted to noise — it fills his inner world, inhabits his heart and mind, and moves his body.
But like a jealous deity, noise destroys everything in its way and finally turns on those who can no longer live without it. If we are exposed to it from the earliest age, it turns into an indispensable accompaniment of every moment of our existence. So, we must rediscover silence, because God cannot be found in noise. 
God is the Word in silence
"God is in silence" as the old French saying goes. We all remember the episode from the life of the prophet Elijah. He fled from Jezebel, who threatened to have him killed, and sought refuge on Mount Horeb. There he waited for God to reveal Himself. The story has it that God did not choose to manifest himself by thunder or lightening but by a gentle silent breath that caressed Elijah's face. It was in this silence that the prophet experienced God.
God is the word in silence. "God doesn't talk to me," some claim. Actually, He is not so much silent as He is found in silence. So, He is with us, but not with the loudest and the most talkative. We have here a strange paradox: in the New Testament, God is known through his Word, incarnated in Jesus Christ. And at the same time God remains silent. He is only known to those who seek Him in silence. 
Are you ready to hear the Lord speak to you in silence?
So, there is a war to be waged on noise. It's a fight for God and man. In old times, the problem was to be heard, today it is to make silence. But silence can only exist if there is no noise! And its absence has become unbearable for so many of us. But there is a solution: we must stop acting like passive victims of noise. The actual struggle against it begins with learning how to seek and love silence inhabited by the Word of God. 
The need for silence is a deeply personal matter. It is the very same thing as the search for God: one always comes with the other. Each of us must ask the right questions: Am I ready to embrace silence? Am I ready to do without any kind of interfering noise and face myself? Am I ready to find God, to hear what He has to tell me in silence?
Alain Quilici
Read more:
The art of discernment: How to make the right choices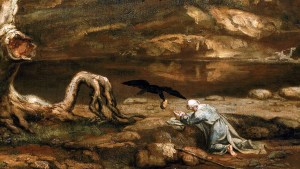 Read more:
Why God's voice is easier to hear in solitude