Whether you are a parent, a military leader, or a CEO, you must know how to establish and exercise your authority positively and objectively.
What can God do in your life with one Bible verse a day?
Subscribe to Aleteia's new service and bring Scripture into your morning:
Just one verse each day.
Click to bring God's word to your inbox
We often hear people say "There is no leader without authority…"  But what is this authority, they are talking about? With 40 years of experience behind him, French general Bruno Venard shares his thoughts on the subject with all those who find themselves in a position of power. 
Do you think we can teach authority?
Today, this is a tricky question because many people confuse issuing orders with the authority of the person issuing them. The sense of authority is a quality proper to specific individuals, but issuing orders is a part of function. So, you can learn how to exercise that. For example, if you make someone a head of a prison, to obtain your goals you may give him authority over those he is guarding. If provided with the means to do so, this person will be issuing orders following your commands. This is the reason why the Soviets and the Nazis had no problem finding efficient individuals to run their concentration camps and their gulags. 
Can a person hold a position of command without exercising actual authority?
Yes. To take my previous example, in contrast to the head of a prison, a real leader must recognize that his subordinates are free individuals. He must take their personalities into account and make sure that the orders he issues leave room for their initiatives. This may greatly contribute to the success of a mission or a task they must accomplish. 
Napoleon was clearly aware of this when he entrusted various missions to his generals: he was very strict with his orders, but he always left room for their initiatives when it came to gaining victory. When the very impulsive General Lannes energetically charged into battle with his cavalry, the result was there. 
Read more:
There are 3 main leadership styles — which one are you?
What advice would you give someone taking command?
First of all, a young person who's been given a position of authority must be competent to gain the respect and trust of his subordinates. He must also be very attentive to the opinions of those around him, both his seniors and the staff. 
This is what the centurion from the Gospels is aware of. What does he tell Christ? "For I myself am a man under authority, with soldiers under me. I tell this one, 'Go,' and he goes; and that one, 'Come,' and he comes. I say to my servant, 'Do this,' and he does it" (Lk. 7:8). This centurion knows his place in the chain of command, and he enjoys the trust of his men. This is not just out of camaraderie – the charge of a centurion also involved the use of cruel and repressive punishment for disobedience. But he knows that he must inspire this trust for his men to follow and execute his orders well. We must also note that the centurion asks Jesus to heal his slave. Hence, the leader should always take care of his subordinates. 
So, there is no authority without attention to others?
A human being can only be fulfilled in balancing his personal growth and with relationships with others. So take a look around, listen to what others are saying – it's a wise attitude for anyone who isn't satisfied with just "protecting" himself from external threats but is ready to confront the world with intelligence and a clear head. You need to rid yourself of vanity and recognize both your weaknesses and strengths. You must combine a lot of humility with action. 
A person in charge must carefully observe his superiors and even more so his subordinates. He must clearly perceive their flaws and qualities. It's scandalous to watch how some high-level officials or managers (willingly or through ignorance) attribute totally unsuitable tasks to their subordinates. Unfortunately, this is something that happens quite often. A leader must show clear-headedness without kowtowing to his superiors or acting with condescension toward his staff.  
Pascal Sonvalle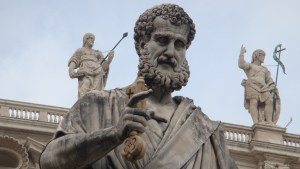 Read more:
5 Leadership lessons from the least likely leader in Christianity