Sometimes our partner embarrasses us in public. Should we immediately take him or her to task in front of everyone?
What can God do in your life with one Bible verse a day?
Subscribe to Aleteia's new service and bring Scripture into your morning:
Just one verse each day.
Click to bring God's word to your inbox
"My husband was angry with me because I chastised him in public. But I don't think I should let him say incorrect or hurtful things to the person he's talking to," confesses an upset Louise. "We've tried to discuss it but we never get anywhere. It's like we're not hearing each other."
But what is the right attitude to take when we hear our partner say something that is shockingly inappropriate, inaccurate, offensive, or when we see how much it is affecting another person?
Louise decided to say something right then and there, giving priority to the other person, even though it meant that her partner would be angry. (Because the person who's been "corrected" feels sincerely hurt.) But is this really the right attitude to take?
Carefully observing what each person is feeling
Telling the truth versus being considerate? And being considerate to whom? These are the questions we wrestle with in such situations. This attitude often reveals a subtle analysis of the moment, an attempt to keep that person from being hurt, and to avoid our embarrasment at seeing our spouse act in a way we don't agree with.
Nevertheless, doesn't our partner also have a right to our sensitivity? How, then, are we supposed to keep the conversation on track and still feel good in the relationship? In this particular case, you have to talk about it together, in a calm frame of mind, after both of you have recognized you went overboard and have apologized for the hurt you caused.
Does Louise's husband realize the impact his comments have? Does he ever see he is being overbearing or even hurting someone by what he says? Does he understand his wife's position, and how embarrassed she is sometimes? And does she realize that when she interrupts him to "defend the victim," her husband feels this is a lack of respect toward him? That he also is deeply embarassed when she scolds him in public? Taking a moment later to reflect, to comprehend each person's reaction, makes it possible to see beyond our own wounded ego.
Lastly, you need to redefine other ways to live as a couple and relate to others. Don't they say you shouldn't "wash your dirty laundry" in public? Why not wait to get everything out in the open later, at home? This way each one of you can learn to better identify the limits and not go too far in public, especially keeping in mind Jesus' commandment to "love one another."
Marie-Noël Florant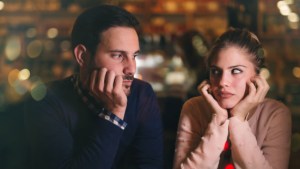 Read more:
What if we could accept our spouse just the way they are?