The image of a crib with guard rails can help us understand how these go together.
What can God do in your life with one Bible verse a day?
Subscribe to Aleteia's new service and bring Scripture into your morning:
Just one verse each day.
Click to bring God's word to your inbox
No one would ever accuse us of being bad parents for placing a child in his or her crib to sleep. Cribs are designed to protect babies and make them feel safe.A baby placed in a large bed alone may feel lost and is at risk of a fall. A crib is has restrictions but it's also a safe place. We must keep this image in mind, because it clearly demonstrates how much children need safety as they grow up.
Firmness makes children feel safe
The guard rails of a crib prevent babies from falling out.Our children never ask us to install them, nor will they will ever call on us to show firmness as they get older so they can grow up strong and confident. More specifically, it's the permissions and the prohibitions that let them clearly see the boundaries established for their own good. Children feel reassured when there is a set of simple rules they cannot challenge.
Avoid making empty threats: "Stop fighting in the car or I will leave you both on the side of the road!" These kinds of comments only make you lose your credibility. Abstain from giving multiple "chances"; instead, do what you've promised: "If you leave the table now, don't bother coming back, lunch is over for you." It's a shame if they miss out on the dessert, but don't propose it to them an hour later.
Learning to live with frustrations
Permissions and prohibitions are there for our children to rely on. So, don't be afraid of being a "bad" parent. When deprived of boundaries, children can get seriously hurt … emotionally, spiritually, and sometimes even fatally. This is why we wait for children to grow before switching them from a crib to a real bed. This allows them to sleep soundly without fearing darkness and emptiness. Don't be in a hurry to take these props (simple rules and boundaries) away; it takes time for children to learn how to make their own decisions. Confusion can only increase their anxiety.
If children don't learn how to live within boundaries and deal with frustrations, chances are they will grow to be slaves of their own whims and passions. Calm firmness and clarity are indispensable for any real education and a guarantee of future confidence and happiness.
Inès de Franclieu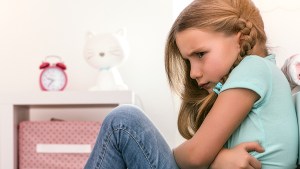 Read more:
How do you discipline a child who doesn't listen?