What if we were humble enough to question ourselves more often?
What can God do in your life with one Bible verse a day?
Subscribe to Aleteia's new service and bring Scripture into your morning:
Just one verse each day.
Click to bring God's word to your inbox
Is the person who states "You're always right, aren't you?!" conscious of the motivation for saying it? And why is it often said in such a harsh tone? Is it the desire to disqualify what the other person just said? Is it to bring the discussion to an end? Or is it because there are no good counter-arguments and the person wants to avoid being wrong? Maybe they think the conversation is useless and could degenerate into an argument, or maybe they often have the painful feeling after a conversation that they are undervalued, and what they say is never taken seriously.
The person at the receiving end of this rebuke should also ask themselves: Is there a bit of truth in what the other has said? Do we assume all too quickly that the other is clearly exaggerating? And if so, is it due to a superiority complex (that we would do well to recognize), or that we seriously doubt the other person's capacity to reason and we lack respect for their ideas? Maybe we are just convinced in good faith that we are right … and that admitting otherwise would be to give up our opinion or deny evidence.
What is required in every good communication
The first requirement for good communication is to realize that it is vain, useless, and inefficient to figure out who is right and who is wrong. The important thing is to try to better understand how the relationship is functioning.
For example, you need to pay attention—with a sense of humor—to the patterns that go on in the relationship when it comes to communication.  It is useless to figure out "who started it," behaving like children who fight and then trying to justify ourselves.
The second requirement in any communication is abandoning your ego for a moment in order to engage with the dynamic of the other. A healthy way to start is with the notion that the other person (who is also very sensible) may have noticed some aspect we overlooked that is of our interest. Saying that we are right is affirming too quickly that we know the truth. Saying that the other person is always right is saying too quickly that he or she is convinced they know the truth, and paradoxically, it is saying that we, too, are right. However, if we think about it, we know very well that no one knows the complete truth. Reality is so complex that we can only capture partial elements of it.
No one can claim to know the truth
We all see the world through the lenses of our subjectivity. Our lenses are tinted different colors depending on our education, our history, and our personality. If we disagree, the reason is not so much because of a clear error in judgment on the part of the other person as it is the fact that we are not speaking from the same perspective, that we do not have the same point of observation, the same "point of view."
So, instead of tearing down the other's vision, it is prudent to change our position and try — as much as possible — to see the world and its problems through the eyes of the other. Then, a difference of opinion will no longer be a motive for conflict, but instead will enrich and fine-tune our perspectives. This holds true for marital and parental relationships, as well as friendships, and professional relationships.
No one can claim to know the entire truth. There was only one who had the audacity to say not only that He knew the truth, but that He is the Truth. But we are not Christ and, above all, we have no right to think we can compare ourselves to Him by saying, for example, that we have the ability to see things as He did.
Father Denis Sonet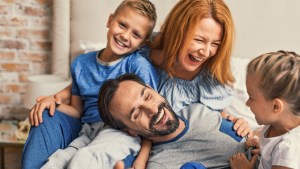 Read more:
The communication technique that can bring peace to your home