It's natural to worry about the future, but it can deprive us of the joy of living in the present moment.
There are different forms of anxiety. One can be positive, like the kind of unsettledness we have in our soul that is described by St Augustine: "You have made us for yourself, O Lord, and our hearts are restless until they rest in you." There are also the kinds of anxiety that don't lead us anywhere good, such as the habit of worrying. This kind of anxiety can deprive us of all happiness and peace of mind. It often interferes with our spiritual life, so it's worth shedding some light on it. (Of course we are speaking here about the kind of worrying we can choose to indulge in or resist. An anxiety disorder is best treated with professional help.)
The key to fighting worry about the future
It's natural to worry, but Jesus warns us:  "… small is the gate and narrow the road that leads to life" (Matt. 7:14). If seen from this angle, worrying is a rite of passage to a new spiritual existence. St. Ignatius tells us that it's never our circumstances or the events in our lives that make us lose our peace of mind; it is because the pain we experience has turned our attention away from Christ.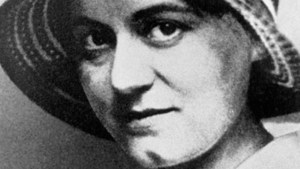 Read more:
How to live in a time of fear as St. Edith Stein did
St. Peter offers us two key techniques to resist worry: "… standing firm in the faith, because you know that the family of believers throughout the world is undergoing the same kind of sufferings" (1 Peter. 5:9) and "Cast all your anxiety on him because he cares for you" (1 Peter 5:7).
Excessive worry is more than a temptation – it can open the door for other temptations. St. Francis de Sales says this kind of anxiety is "the greatest evil that can befall the soul" and calls on us "not to seek the consolation from God, but the God of consolation."St. Paul tells us: "Do not be anxious about anything, but in every situation, by prayer and petition, with thanksgiving, present your requests to God. And the peace of God, which transcends all understanding, will guard your hearts and your minds in Christ Jesus" (Ph 4:6-7).
The grace of trust
We must put our trust in the Lord for "God is faithful; he will not let you be tempted beyond what you can bear. But when you are tempted, He will also provide a way out so that you can endure it" (1 Cor. 10:13). This ability to surrender, and the conviction that He "is able to do immeasurably more than all we ask of imagine, according to his power that is at work within us" (Eph. 3:20), can help us to live with trust in the present moment.
Father Nicolas Buttet
Read more:
3 Dos and don'ts for talking to your kids about fear during a pandemic