Enter into the beauty and mystery of the very beginning of human life with this reflection.
What can God do in your life with one Bible verse a day?
Subscribe to Aleteia's new service and bring Scripture into your morning:
Just one verse each day.
Click to bring God's word to your inbox
Dear little one:
You received a soul from the moment of your conception and you understand the mysteries hidden from even the philosophers and the most educated. You bring us to the unseeable essence, you reveal a secret: that the greatness of life cannot be measured or weighed, it cannot be explained.
Listening to your heart beat in the womb of your mother, you invite us to leave behind our days of trying to reach externally acclaimed heights of success. Adults are obsessed with triumphing in life; they worry so little about death. But, what is a successful life anyway? Moving up the social and professional ladder? Having a brilliant academic career? Getting married and having children?
We haven't understood what makes life valuable. But you show us the treasure of a humble soul and sing that song of childhood from the psalms:
"My heart is not proud, oh Lord, my eyes are not haughty. I do not aspire to great things or matters too lofty for me. Surely I have stilled and quieted my soul; like a weaned child with his mother, like a weaned child is my soul within me. O Israel, put your hope in the Lord, both now and forevermore. (Psalm 131)
You teach us to keep our soul "stilled and quieted" — we, who fill our lives with noise. You teach us also to rely on others, you, who are connected to your mother's womb, her breath and her blood. We often forget that the space of our life only unfolds in the hearts of others and, ultimately, in the heart of God. As long as we fail to understand this, we will be isolated in our own heart. You teach us to understand that which is not found in books, what the Lord wants to say when the burning bush reveals his mysterious name: "You will tell the Pharaoh — who kills children and reduces man to a creature of labor: I am who I am."
God reveals himself through who He is, not primarily by what He does. In other words, the Lord is not measured by what he possesses or by what he does. God simply is. We have a tendency to say "I am what I possess, I am what I do," instead of saying "I am what I am."
Tiny baby, you invite us to rejoice in being "unworthy servants" (Luke 17:10) in a world where humans are turned into a market commodity. You are not "good for" anything, like beauty. And therein lies your unalienable glory. How grand it is to be useless, not to be loved first and foremost for what you bring, but for who you are! God wanted you just for being you.
Tiny baby, master of simplicity and inner life, without a doubt I have lost too much of my childhood. Help me to recover it in holiness.
Father Luc de Bellescize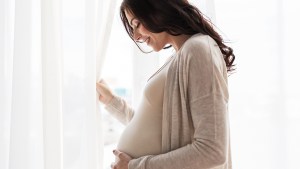 Read more:
2 Ways to develop your child's spiritual life … while they're still in the womb