These techniques can help.
What can God do in your life with one Bible verse a day?
Subscribe to Aleteia's new service and bring Scripture into your morning:
Just one verse each day.
Click to bring God's word to your inbox
"Who are you to judge your neighbor?" asks James the Apostle (James 4:12). Indeed, who do we think we are, so quick to notice someone's faults and over-emphasize them? How many of our inner monologues are, in fact, judgments? We are easily tempted to dish out good and bad opinions, imprisoning our brothers and sisters behind the metal bars of our criticism. But Jesus asks us not to judge each other. How should we respond to this demand for love without totally relativizing the good and the bad?
And friendly corrections?
We set ourselves up as judges because, deep down, this makes us feel better. Showing the false steps of those around us is a way to convince ourselves that we are better than they are. It is also power, or even revenge, over the other. Nevertheless, Jesus is very clear: "Do not judge so that you will not be judged. For in the way you judge, you will be judged; and by your standard of measure, it will be measured to you. Why do you look at the speck that is in your brother's eye, but do not notice the log that is in your own eye? Or how can you say to your brother, 'Let me take the speck out of your eye,' and behold, the log is in your own eye?" (Matthew 7:1-4). It is not simply a question of abstaining from harsh words. It means, above all, having an inner attitude of kindness, "for the mouth speaks what the heart is full of" (Luke 6:45).
When we judge, we are refusing to be merciful with our brothers and sisters, which means we exclude ourselves from mercy—we make ourselves unable to receive God's forgiveness. "For the one who has shown no mercy will be judged without mercy" (James 2:13). But, the absence of judgment does not imply false tolerance, i.e., putting good and evil in the same sack. While Jesus asks us not to judge, he does recommend a certain brotherly correction: "If your brother sins, go and show him his fault in private" (Matthew 18:15).
However, He warns that we can only guide our brothers and sisters if we ourselves are in the light of God, and that implies that we begin to see ourselves as sinners: "First take the log out of your own eye, and then you will see clearly to take the speck out of your brother's eye" (Matthew 7:5). We cannot take the log out of our own eye; only the Lord can get it out for us.
Instruction manual to keep from judging others
The Lord asks us to leave judgment behind and come into mercy; before the eyes of our brothers and sisters, but first in our own eyes. Why do we keep so many logs that block our vision and close our heart? Why do we prefer to ignore our own mediocrity when we judge others, instead of looking at our own sins face-to-face? Because we would judge ourselves and condemn ourselves, and that would be unbearable. It is true that recognizing our own sin is frankly intolerable … except if we see it from God's point of view. In other words, we should dare to place ourselves entirely at His mercy. If we plead to God—"Have pity on me, I am a sinner!"—we can be sure that He will remove the log from our eye.
How do we stop judging those around us and begin to live in mercy?
To start, we must have the desire to change, and then entrust this wish to the Lord. We can also grow in awareness of what drives us most often to judge one person or another: anger, resentment, envy, etc. Lastly, and most importantly, we can. offer specific acts of mercy—doing a favor, saying something nice, apologizing, a prayer, etc.—especially for those who, unbeknownst to them, are the frequent victims of our judgments.
We should give thanks for the brothers and sisters we are tempted to judge. In faith, we should praise the Lord for who they are, even if we don't clearly see it. Then, little by little, the Holy Spirit will purify our heart, illuminate our vision, and make us capable of using our judgment—distinguishing lies from truth and good from bad—without actually judgingpeople.
Christine Ponsard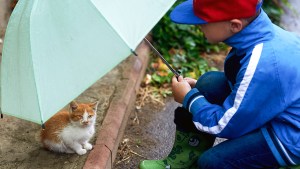 Read more:
The role of kindness in the spiritual life