It can seem impossible, but when we understand this command, it becomes more natural.
What can God do in your life with one Bible verse a day?
Subscribe to Aleteia's new service and bring Scripture into your morning:
Just one verse each day.
Click to bring God's word to your inbox
Some of us have a hard time with the command from Jesus to love our enemies and pray for those who persecute us (Matthew 5:43). However, if Christ demands it of his disciples, it is not optional—it is essential. When hatred or violence take on real faces, this commitment becomes even more relevant. In order to understand just how serious this is and respond to it, we must first fully comprehend it.
What is an enemy?
Intuitively, we perceive that an enemy is someone who wants us to suffer and is willing to use violence to harm us. However, more essentially, an enemy is one who has come to reject love as a fundamental rule. The enemy par excellence in the Bible is the devil, the fallen creature who opposes God's project, the coming of his Kingdom. To carry out this opposition, he looks for allies, seduces people, and drags them to the absurdity of his opposition to love. We are all vulnerable to this seduction, at some point in our lives. And many of us are tempted to respond to the enemy with the same weapons they have used against us. How can we keep from falling into the same game as the enemy?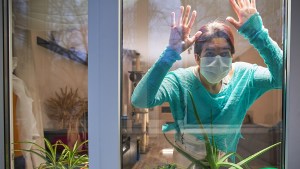 Read more:
Let's not allow the virus to turn neighbors into enemies
Christ offers us another weapon: prayer. Thus, we are faced with a second question: What is prayer? Above all, it means focusing on God—having a heart-to-heart conversation with God. This allows us to distance ourselves from our feelings for our enemy in order to enter into the feelings of God our Father. Christ turned to his Father before being forced to the cross by his tormentors. The heart of God is like that of a Father who loves all his children and suffers when he sees they have rejected his project of love. The enemy, before becoming an enemy, is a being worthy of the love of God, even though he or she has rejected that love.
Prayer helps us get a good perspective on our feelings
Recall the moment in the life of Friar Christian de Chergé in Tibhirine, Algeria, when armed men broke into his monastery. He recounts: "I had the strength to say to that threatening man that, for me, he was was still a human being." The strength he received by the grace of prayer made it possible for him to see a brother in the face of his aggressor.
St. Augustine, in his commentary on the first epistle of St. John, says in the same line: "You see your enemy oppose you, unleash himself against you … and persecute you, but you are aware of the fact that he is a man." In order to be able to do what St. Augustine says, prayer responds to our disappointment in seeing other human beings reject God's project, which is a project for peace. Prayer allows us put a little perspective on our immediate feelings for our enemy in order to entrust them, and all enemies, to the Father, who renews all things, even the hardest of hearts. Praying in this way brings the peace of God upon us.
Father Marc Fassier
Read more:
When you have difficulty loving your enemies, pray this prayer