A few tips to help you live this separation with more serenity.
What can God do in your life with one Bible verse a day?
Subscribe to Aleteia's new service and bring Scripture into your morning:
Just one verse each day.
Click to bring God's word to your inbox
In a year that has brought us a whole host of changes, some families are also saying goodbye to their children. The problem is not so much a child going to a distant school as it is our inability to be there for them. The world can be full of dangers that can turn their head. Will they know how to avoid them? Will they study hard? Will they go to Mass? What will their new friends be like?
It's natural to worry about all these things as a parent. It's extremely painful to love a child, only to see them go. The mind tells us that they don't belong to us and yet, when it's time to say goodbye, our heart explodes from sadness. How can we make this experience as painless as possible?
Don't be manipulative
First, let's avoid making our child feel guilty. We should abstain from emotional blackmail or trying to hold them back.
Second, we must show them that we trust them. The rite of passage to adulthood consists in our children leaving, confronting the world, and experiencing new things. The better we teach our children to stand on their feet, the more successful and independent they will be.
Read more:
An examination of conscience for college students
But we mustn't let our child go without guidance or having warned them of certain dangers. The better we have developed our child's critical thinking, the more careful they will be and still savor their independence, even if they live on instant noodles and frozen pizzas.
However, we must also be there to accompany our children's first steps toward independence. How do we keep in touch without invading their life?
Create special moments for them
When our children are 17 or 18 years old they are typically still financially dependent on us, so it's justifiable to stay up-to-date with their life: their schedule, their grades, their living situation. We must make time to see the dorm or the apartment they live in and the college or the university they attend.Internet and telephone allows parents to keep updated with their children while respecting their privacy. The frequency of these calls can be determined in advance. And naturally, it's our duty as parents or grandparents to make their visits home special.
Let's keep in mind that it's probably difficult for our child to leave us behind, too. So, can we help them do it without giving an impression of chasing them out (which can also happen)? It's upon leaving their family home that children begin building a life for themselves. They will let us in on some things but not on others. It will be a totally new relationship of coming together and going our separate ways.
When the time comes to say goodbye to our child, let us pray and entrust them to their guardian angel and patron saints. After all, it's also a part of our parental duty. This humble act is all the more vital because, as we know, God is a good father who faithfully watches over all of his children.
Élisabeth Content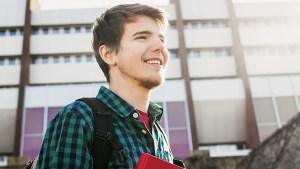 Read more:
5 Ways to keep your faith in college