A boss, a spouse, a friend ... how can you recognize someone who's a master manipulator?
What can God do in your life with one Bible verse a day?
Subscribe to Aleteia's new service and bring Scripture into your morning:
Just one verse each day.
Click to bring God's word to your inbox
They are referred to as manipulators, or as having a narcissistic personality disorder. They can wreak havoc in any context, and in any type of relationship (romantic, professional, family, friends, sports, associations, etc.). These people are seductive, engaging, and sometimes reserved, who attract others by their charm and adulation. However, their victims soon fall into a hellish spiral of guilt and feelings of worthlessness. Priest, medical doctor, philosopher and theologian, Father Pascal Ide, author of Manipulateurs (Manipulators), offers several points on how to detect, understand, and act, if we find ourselves faced with a person who suffers from narcissistic personality disorder.
How did you become interested in narcissistic personality disorder?
Pascal Ide: It was primarily to look at the issue within an ecclesiastical context because, even though in French alone, over 100 works have been recently published on this topic, this highly toxic profile is still overlooked. One woman whose sister had all the traits of a narcissistic personality (NP) told me that she went to confess all the rage she felt toward her sister and the priest insisted that she forgive her and get in touch again. Forgive yes, without a doubt, assuming that this victim's suffering has been taken into account. But regarding getting in touch again, it could turn out to be seriously imprudent, and possibly bring the victim to once again fall under the influence of an NP. 
Nowadays, isn't it more common to say "narcissistic perversion" than "narcissistic personality disorder"?
The expression "narcissistic perversion" was coined by psychoanalyst Paul-Claude Racamier. I prefer to use "narcissistic personality disorder" which refers to a specific psychiatric profile. 
How can you identify a narcissistic personality?
This person is characterized by two specific signs: they have no doubt they are exceptional people, that they deserve more attention than others, which they expect without feeling the need to reciprocate; and on the other hand, they are truly insensitive to the suffering of others, starting with the suffering that their own egocentrism causes.
Isn't everyone a narcissist to some extent or other?
Yes, definitely, including me! But you need to distinguish between being a manipulator or a narcissist—whic reveals a pathology—and simply having manipulative or narcissistic attitudes. Therapist Isabelle Nazare-Aga, after much experience, created a list of thirty criteria. We would certainly fit into one or several of these criteria, but most narcissistic personalities would match more than twenty or thirty.
If I understand you correctly, a narcissistic person is someone who has an overblown ego.
Actually, it is more complicated than that. On the one hand, these people think they are superior to others, and they also believe that they are above the law, which they break with no remorse. "I couldn't care less about community norms,"  they would say. On the other hand, they present an abysmal narcissistic vacuity. These are people who lack an inner dimension and stability. That is why they have a constant need to feel admired, they surround themselves with their "admirers" and reject and demonize all those who refuse to adulate them. 
Can you give an example of this kind of person?
In her book We were not armed (in French "Nous n'étions pas armés" Ed. Plon, 2013) Christine de Védrines describes them very well in an objective and sober—I would almost dare to say charitable—manner; she shows how a man, clearly an extreme case of  narcissistic personality, in nine years was able to get his family to trust him and then bring them to complete ruin, push two different couples to get divorced, and attack the physical and psychological health of their members. After having succumbed to his mental maniputaions, the author finally reacted and alerted the authorities of the danger her life was in. It's hard to imagine what an NP is. A book like this one can give us an approximation of what they are like. It is terrifying!
Is there a simple way to tell?
I can summarize it with an amusing observation: this is the troublesome person we always end up talking about, the typical subject of our conversations at the coffee machine…
Don't we run the risk of seeing narcissists everywhere, starting with our spouse or our boss?
Yes, that can certainly happen. That is one of the reasons I decided to write this book. But the diagnosis needs to come from a trained professional (psychotherapist, psychologist, psychiatrist) and not from someone who considers themself a victim.
Are there certain causes that tend to bring out NP in today's society?
All the indicators show that, over the last fifty years, people in the West are becoming more narcissistic: continual self-evaluation, individualism, over-blown images of themselves, lack of civic responsibility, the cult of physical appearance… Therefore, pathological narcissism has become a benchmark of our society. The current educational system favors it: if you want your child to become a tyrant, treat him like a prince, tell him constantly that he is the best, that he should think about himself first, his own pleasure and success. Pablo Picasso was a destructive, and likely perverse narcissist. When he was small, he wasn't just adored by his mother, he was fetishized by her. Conversely, it seems that NPs do not tend to occur within in a healthy family setting. 
There are two extremes here. While a person with burn-out will suffer for giving too much—or rather, for giving badly—, a narcissistic personality suffers—and above, makes others suffer—for not giving at all. They captivate, capture and decapitate. 
You hold that "high caliber" NPs are not found only among political leaders but also among religious leaders. How would you explain the fact that there are so many NPs among founders and prominent figures?
First of all, this is a general observation. One of the rare studies in relation to this topic shows that there is a much higher number of NPs among bosses, which does not mean that every leader has an overblown ego. Also, NPs often link their pathology to a real talent they have, and exploit it to the max. These are very seductive people who know how to show off their best side and end up in high levels. They are often keen observers and are good at identifying our defects, and play that off of our need for recognition in order to climb the corporate ladder. Once they are at the position they want, they become inflexible and unleash all their violence. 
I should point out one thing that is often not mentioned: not all these NPs are underhanded or sexual perverts. They can even be quite abstinent. But they are thirsty for power and will explain very sincerely and with much conviction that they are the most qualified for the job. 
You state that "certain forms of NPs  are more common in the Church than in civilian society"…
I say this with caution, because we need more studies to verify it. I'm thinking about two profiles that were clearly identified by psychologist Stephen Karpman: the victimist NPs and the rescuer NPs. The victimist NPs (which we need to distinguish from authentic victims) proliferate in Christian groups because these groups are, in general, warm and open to compassion. And so the victimist's world puts itself entirely at their service, feeling guilty for not doing enough, without receiving any appreciation at all and where the victimist doesn't make the slightest effort to get out of his or her situation. 
And what about the rescuer profile?
Here, too, we can distinguish between savior and rescuer. André Frossard said that the integrist is the person who carries out the will of God, whether God wants it or not. Well, the rescuer is the person who does good for the other… whether they want it or not! This is the person who imposes their help: "It's for your own good!" But Jesus proposes, he doesn't impose: "What do you want me to do for you?"
In this way, from a position of self-proclaimed omnipotence, would the NP brag about their divine abilities?
Exactly. They want to be loved more than anyone else; deep down, they want to be adored by others… Immediately Satan and the third temptation of Christ come to mind. But there is one thing specific to religious contexts: the NPs monopolize God to justify their power. For example, they pretend to speak in the name of God and invoke God to make others feel guilty. 
Are people with narcissistic personality disorder conscious of what they do?
From a Christian point of view, are they sinners or simply mentally ill? This is a delicate issue. The specialists are divided. Experience, moral philosophy and faith assure me that every person has a moral conscience. The psychiatrist Baruk showed that a psychotic person, while seriously sick for long term, does have moments of moral clarity. For example, he or she knows when an injustice has been done to them. In this sense, the perverse narcissist is a calculating person, watchful of what is going on around them. I cannot imagine that with this capacity to be in a constant state of watchfulness, the perverse narcissist is unable to see things, and the harm he or she causes, at least for a fleeting moment, in the light of moral conscience.
If the person with NP is sometimes conscious of his acts, can he come to recognize his errors?
He or she may recognize they have made a mistake, but they immediately justify themselves. For example, the husband who beats his wife (or the wife who beats her husband which, although rare, does happen) cannot deny it. However, he will add: "You asked for it. You pushed me to the limit." They aways find an excuse. And I mean that literally: always. Because the weapon of the NP is the point where good and bad meet, along with putting the blame on the other into the mix.
Can an NP change?
This is another very delicate question. Medical and psychological studies do not describe such changes. This brings us to a very important issue. If I have to make a decision, I must always be very careful to decide if the person who fits this psychiatric profile will be able to change or not. For example, if I am the bishop, I will make sure not to assign an NP to a position of responsibility; if I get notification of an accusation regarding a person who presents this profile, I will make it my job to protect those around him, and even remove him from that context. Yet, who can see into another person's heart? I can pray that this narcissistic person will finally, at a moment of clarity, be able to carry out an act of selfless love. 
Interview by Luc Adrian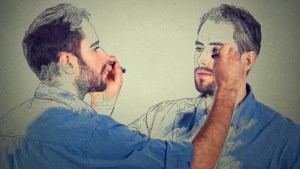 Read more:
Narcissism vs. self-esteem: How to tell the two apart