Above all else, kids need the togetherness of their parents.
What can God do in your life with one Bible verse a day?
Subscribe to Aleteia's new service and bring Scripture into your morning:
Just one verse each day.
Click to bring God's word to your inbox
Ten-year-old Thomas had serious difficulties sleeping at night. He would get up several times because he was thirsty, afraid, or anxious. The psychologist asked the parents to go together every night to give him a hug in his bed, and tell him that they loved him, but also that they loved each other and would love each other always. Overnight, Thomas started sleeping perfectly, his smile returned as well as good grades at school. Apparently one of Thomas' classmates had been talking about how his parents were fighting and were getting a divorce, and this planted the seed of anxiety in him.
Our children are like radar. If something is not going well between us, no matter how much we try to keep it from them, they realize something is going on, they know. The littlest one becomes whiny, his sister says "no" to everything, and the older ones start fighting.  At Mark and Natalie's house, there are two "gauges" for marital harmony: the car and prayer, where parents and children are close together. When a couple loves each other, the children reap the benefits. But when the marital relationship breaks down, the ones who pay the price are the children.
Love between spouses is the foundation for educating children
Because of a defective image they receive from their parents' relationship, many young people fail in their attempt to build their own family, in spite of having had a "good education" and attaining social and professional prosperity. As Patricia recalls: "For my whole life, I listened to my mother criticize my father, so I had a very negative image of him and, unconsciously, of all men. I was only able to get married once I had 'restored' the image I had of my father. When spouses see each other in a positive light, it paves the way for the child to identify with their father or mother; it is essential."
While love between spouses does not relieve parents from dealing with their children's education, it is the breeding ground for successful results. Helen can testify to this: "The fact that I feel unconditionally loved by my husband, even when we don't completely agree, gives me the strength to love my children without being overly didactic, without unconsciously trying to make them love me. I rely on Michael's love to find what is truly best in their education." Another couple, Paul and Isabel, share: "If our daughter Margaret doesn't feel we are well connected she distances herself from us or she finds someone new after rejecting someone else, and she does what ever she wants. But as soon as she feels we are getting along, she goes back to being her charming self and 'recharges her batteries' with us."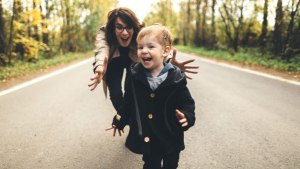 Read more:
Why your kids know way more about your marriage than you think
The greatest fear for children is to see their parents separate: "How am I supposed to choose between Mom and Dad?" a child wonders. "I don't care what they've done wrong, I need them both. If they get separated, where will I go?" The primary constructive element of marital love that brings stability is the feeling of security. It is essential for facing life without fear. In Michael and Amy's case, both of them have strong personalities and the atmosphere in their home is not always a bed of roses. "But our children know that our matrimony is sacred, that for us it is unbreakable. That makes it possible for them to stay more calm when we have a fight!" But the shift from marital communion to family communion is not an easy one! Spouse-spouse, father-mother, parents-children: this triangular relationship needs constant readjustments, as psychoanalyst Annie de Butler explains.
Learning to understand ourselves better to soften our excesses
Michael and Amy have made it a priority to never put each other into a compromising situation when a child asks for permission or advice. It is important to prevent the child from being caught between two different points of view and, worse, manipulating these differences to get what they want. However, having complementary viewpoints can be helpful for the child's education. Michael knows that he tends to lose his patience with his son, so he often has his wife present. For Michael, humor allows him to neutralize potential conflicts: "It's become a joke: as soon as it is clear that Amy and I have committed the 'sin' of contradicting each other, the children chime in: 'But Mom said …'. And everyone starts laughing. Humor and humility come from the same root word, don't they?"
It's also necessary to "learn to understand ourselves better in order to soften our excesses, such as the urge to flee from our responsibilities or rely too much on the other," comments Helen. She continues: "One good way to see this is to think about the situations where you have to choose between your spouse or your children, and see who typically is given preference. I have a tendency to say no to going out to eat so that I can make sure the children do their homework. My sister, on the other hand, hires a babysitter and uses her a lot and her children complain about that." Finding a middle ground is not easy. The main issue is to realize that working in tandem as a couple does not happen overnight, and to be aware that we constantly need to adapt to life's changes, re-consolidating and repairing that unity.
Time for just the two of you is essential for family balance
Another essential mandate for spouses: enjoy moments with just the two of you. "We were finally able to get away for a romantic weekend," recalls Christel. "We had barely arrived to the country cottage and my first impulse was to call home to see if the children were OK. My husband convinced me not to: they knew how to get in touch with us if there was a problem. I realized it was difficult for me to leave them alone. By getting closer to my husband, I learned how to keep just the right distance from my children. It makes perfect sense!"
To this Christopher adds, "but the cell phone is a real drag" —the "virtual umbilical cord" makes it possible for children to be present everywhere because they call about the slightest decisions, and it keeps them from learning how to be self-sufficient. "It's amazing what a little distance, silence, and time can do to make you see things more clearly, get perspective on the difficulties you're having with one of your children, let solutions naturally arise or conflicts naturally get resolved," comments the father. Christel warns also about the "perfect reasons" for not finding time for your partner: "Taking a closer look at the 'obligations' that I supposedly had for every weekend up until summer, I saw that, no, it wasn't absolutely necessary for me to be there every time." Theodore and Bernadette decided to get up half an hour before the children did to have breakfast together, essential for bringing balance to the family.
"Love can be deepened and safe-guarded only by love"
Mutual affection between the couple—a smile, an affectionate gesture—impacts the life of your children. Unconsciously, they imitate these attitudes, with their siblings and with the parents. It is amazing to see how 15-year-old Elizabeth is able to tell her mother in front of her friends, without embarrassment "I love you, Mom." The reaction of her friends witnessing the scene: "Your mom is fantastic!"
Pauline, who leads a group of scouts, has witnessed how children imitate their parents. She observes: "I love spending the afternoon seeing my cub scouts with their families to help them prepare for their pledge. I understand the child better when I see them with their parents: some parents are more attentive to others, they value others more, they say thank you; others don't know how to communicate or get caught up in petty quarrels. I often find the same attitude in their children."
Nevertheless, beyond whatever specific strategies we rely on, "Love can be deepened and safe-guarded only by love," as Pope John Paul II said. "If neither one of us reserves time to refresh ourselves at the Source, all our relationships, with our spouse and with our children will dry up like a thirsty plant," affirms Christopher.
Sabine Bidault
Read more:
How to use a vacation to rejuvenate your marriage