When should you start giving money to your children, how often and how much?
Need an idea for Lenten almsgiving?
Help us spread faith on the internet. Would you consider donating just $10, so we can continue creating free, uplifting content?
Make a Lenten donation here
From the first coin slipped under their pillow by the "tooth fairy" to money for the movies with their friends, many parents give an allowance to their children. The main reason for doing this is educational. Many parents believe it teaches children the value of money and encourages self-sufficiency.
It teaches a child to distinguish between a real need and a passing impulse
"An allowance should not be seen as an automatic payment that makes the child think that money grows on trees and that spending money is easy and expected," says psychotherapist Thomas d'Ansembourg. Giving money only when it is specifically needed avoids this downside: "It opens the path to dialogue and offers the parents the opportunity to teach their children how to distinguish between a real necessity and a fleeting impulse. It teaches them about judgment, understanding, and self-control."
Doing it this way means you have to be available, and be willing to reinforce the method with a good dose of patience. It's not always easy to argue with an adolescent who has all their justifications ready to go! "They know how to be persuasive when they want something," observes Laurel, mother of five. "They always say that what they want is extremely important and not very expensive." It is the parents' job to explain that they themselves give up certain purchases or leave them for further down the road.
"Freedom is not a question of fulfilling all our desires. It means being able to express them, sometimes putting them on hold, waiting until Christmas or for a birthday," comments Father Lancrey-Javal. But patience is a virtue "on the endangered species list" with this generation of instant gratification which, to make things worse, is continually bombarded by highly orchestrated marketing strategies.
The freedom to spend—or not
Giving money only when they ask for it also allows you to have more control over how it is used. "I'll give them the money to go to the movies if I approve of the movie," explains Barbara. According to Nathalie Goursolas-Bogren, education consultant specialized in parenting and author of Tout savoir ou presque sur l'argent de poche ("Everything, or nearly everything, you need to know about allowances").
This vigilance should, however, leave room for the child to make mistakes. "The child will learn, for example, from the disappointment of having bought something cheap that did not live up to his expectations. And this will make him or her mature." Angela, for her part, struggles to keep her children from buying only candy: "I tell my son not to spend all his money on candy. I alsoteach him not to spend his money all at once, because as soon as he sees a discount store, he tends to buy the first cheap thing he sees!"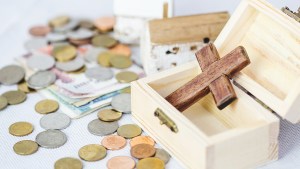 Read more:
3 Steps to figuring out our faith and finances
Another thing to pay attention to: the relationship the child has with money. Comments Laurel: "We soon saw who was the saver and who was the spender." Lorraine, mother of three, confirms: "If I give 10 euros to my oldest, he normally spends 12!" These behaviors can be managed through continuous dialogue. "In the beginning, money represents the freedom to buy whatever they want. Then comes the freedom to not spend," explains Goursolas-Bogren,.
A contract between parents and children
What about the regular allowances that many parents decide to use? This method also has its virtues. The child learns to anticipate, save, and experience frustration. The child will have to think about what he or she buys and plan out the choices, because they know that their resources are limited. The regularity initiates, in effect, the management of a budget. "Giving a regular allowance puts responsibility in the hands of the child," explains Laurel. "If they want to go to the movies for the third time this month and their wallet is empty, they learn something for next time, in contrast to the child that gets money by asking for it."
In this case, there is no question about money being dispensed ahead of time. "The interesting thing about giving an allowance at a regularly scheduled time is that it teaches children to plan out their purchases and understanding that, once the money has been spent, there is no more. If you get the child accustomed to getting money outside the scheduled times, they won't think twice about getting into debt as an adult," warns Goursolas-Bogren who, nevertheless, does agree that the rule can be broken on occasion. "I would say it's OK if the project convinces me," admits Angela. "How could I refuse a loan to a child who wants to buy a birthday present for her sister or cousin?"
Another advantage to the regular allowance: you guarantee equal treatment of all the children. "Once they start high school, our children get an equal monthly amount depending on what grade they are in," says Paul.
But how then do we prevent the child from thinking their payment is an inherently deserved right? According to psychologist Didier Pleux, "the scheduling should be linked to a previous contract with the child. If they make no effort at school or at home, the parents can temporarily stop the allowance." This is a way to show that regular is not synonymous with automatic.
How to change from unscheduled to scheduled allowances
Giving money when they ask for it versus having a regular allowance … how do you know which one is best?
"Above all, it is important not to give too much," insists Goursolas-Bogren. "The child should not be able to buy everything they want. They should learn to handle frustration. Their allowance should function to give them a certain amount of freedom to personally choose what they buy, but without becoming a compulsive buyer who lacks nothing."
For the first years of high school, why not consider giving them money when they ask for it? This promotes debate and offers an opportunity to guide your child's relationship to money. Later on, when they are further on in high school, you can set up a regular allowance topromote a growing sense of self-reliance which they will need as they continue on into higher levels of education.
Peter, a father of three, has chosen this method: "Money-as-needed allowed me to establish a relationship of trust with my kids. When the older ones started school, we set an approximate amount together. I would ask them if it was enough for their needs or not." According to Thomas d'Ansembourg, calmly talking about their needs with them is a sign of success of a good education: "Hearing them say 'I didn't spend it all, here's what I have left over' is a marvelous gift for a parent."
One last thing to keep in mind is that allowance money is never an obligation. "Giving a child an allowance is always an educational decision," says Goursolas-Bogren. "It is a good way of teaching them to manage money but, without a doubt, it can be done in a different way. Some parents do not do it out of personal convictions, others because they can't afford it." But are their children unhappy? "We can love without giving money," emphasizes Father Lancrey-Javal.
Élisabeth Caillemer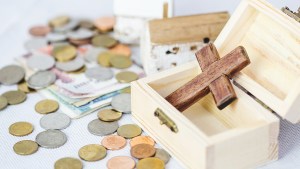 Read more:
3 Steps to figuring out our faith and finances