Fear and anxiety can keep us from being in the moment and be an obstacle to our spiritual life.
What can God do in your life with one Bible verse a day?
Subscribe to Aleteia's new service and bring Scripture into your morning:
Just one verse each day.
Click to bring God's word to your inbox
Our fears about the future often keep us from appreciating the joys the day offers, above all if some specific threat appears on the horizon. Whether it be a justified worry or irrational anguish, this fear of what is coming takes hold of our attention, veers it away from what is, and points it toward something that has yet to be. Instead of enjoying what today has brought for us, we are off to meet the difficulties of tomorrow. Of course, some people are more prone than others to this kind of projection into the future, but it is a temptation that we all fall into at one time or another.
The future belongs to Providence
God gives us this day. The present is the moment for our encounter with God. If we ask the Holy Virgin to "pray for us sinners, now and at the hour of our death," it is because these are the two moments when God comes to fill us with His joy. Not living "in the here and now" is missing your appointment with God. The Evil One, of course, tries to make us miss this meeting … so he aims to distract us from this day of God, making us believe that it is more important to worry about what will happen tomorrow.
Nevertheless, it is necessary to plan ahead and organize: parents cannot live day-to-day without preparing  for the future. They don't wait for school to start to register their children. Likewise, we use lists to prepare everything ahead of time to avoid being rushed. Any sales agent or business person knows that you can't manage a business without keeping the future in mind. Making plans, saving money, contracting insurance plans is legitimate, even imperative. We have to be aware of the future, but not worry about it: this is what the Lord asks of us. He never stops telling us: "Don't be afraid, do not fear for your future." Because the future belongs to Providence.
Read more:
Is it possible to live in the present moment?
Instructions to fully receive this day of God
Therefore, we should not act as if we were masters of the future, as if we knew what we needed better than God Himself. God is a Father with His arms full of gifts. But, instead of seeing those gifts and taking advantage of what they have to offer, His children decide it is more urgent to imagine what would happen if those gifts stopped coming … and they end up missing out on the joy that those presents bring.
We become restless, distracted children every time we let ourselves be invaded by our fear of the future: we pass over the joys of the day, giving preference to the sufferings of tomorrow. So how do we fully receive this day from God? Indeed, we have to make the decision to let go and live in trust—we are not masters of the anguish that squeezes our heart. It is impossible to pretend that a seriously ill spouse will not die, or that the layoffs at work were just a bad dream, or that money dropping out of the sky will keep us from losing the house or the business from closing, or that a child addicted to drugs can recover in a day. So many serious worries can be too much for us.
God knows this and doesn't ask us to pretend that all suffering doesn't exist. He simply asks us not to let that suffering blind us. When we are in the heart of darkness, He calls on us to believe, in other words to see the light of His Presence. He asks us not to leave the small joys behind under the pretext that there are more important things to worry about, because these joys, albeit small, are nevertheless, a sign of victory, a sign of the Resurrection.
Christine Ponsard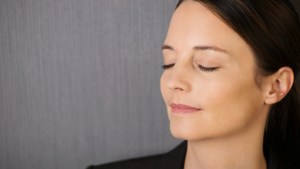 Read more:
Do you really know how to place your trust in the Lord?