It's part of growing up and necessary for the health and flourishing of your marriage.
What can God do in your life with one Bible verse a day?
Subscribe to Aleteia's new service and bring Scripture into your morning:
Just one verse each day.
Click to bring God's word to your inbox
As a young girl, Stella was always "loyal and obedient." As she grew up, she became independent just as her brothers and sisters had done: she studied abroad, got her own apartment. But it was only when she met William that she realized how emotionally attached she still was to her parents: "I thought I was totally independent, but I really wasn't."
As it turned out, her boyfriend didn't exactly fit her parents' criteria. "I didn't think I would disagree with them on such an important decision. I had to do a lot of soul searching to get to the root of my dependence on them" — therapy sessions and spiritual retreats. While her mother still called her "my baby," Stella decided that William would be her husband. "As soon as I gave them the news, they respected my decision."
A necessity for the couple
Knowing how to distance yourselves from your parents is an essential challenge for recently engaged couples. Fr. Pierre-Marie Castaignos, who prepares many engaged couples for marriage, knows a thing or two about this topic. "It is a question I talk a lot about with young couples. I encourage them to think about how their parents educated them. Even though they have usually left home by then, it is essential to make sure that they have become independent." And more so if the couple is very young. The priest considers some specific questions such as: Are summer vacations systematically shared between both sets of parents? Does the fiancée call her mother every day? Is the family overly dominating? Do they feel like they are marrying the whole family?
While necessary, distancing yourself from your parents can still be painful. "Because we love our parents, it is difficult to distance ourselves from them," says Fr. Cédric Burgun. "Even more so nowadays where we are more financially and emotionally dependent on them." For some, this separation is like breaking up, especially in very close, almost clan-like families. Your partner will likely bring these things to light. With their perspective, you will become more aware of defects, excesses, and little eccentricities of your parents and siblings. Sometimes it may take you by surprise.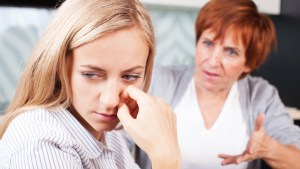 Read more:
In-laws driving you crazy? Here's what you can do
Alice recalls that, once she was engaged and then married, she came to realize that her family could be a little too group-centered. "We were like a tribe! When we would get together on weekends, we had to do absolutely everything together: Sunday Mass, yard work, all the meals … In the beginning, it wasn't even thinkable for us to dine out alone as a couple at the restaurant down the block." While Alice was fine with this, her more independent husband was not, since he hadn't grown up that way, and chopping wood was not his idea of a good time. It exasperated him to see his wife "turn back into a good little girl who obeyed her parents." Alice was torn between her desire to keep her status as adored daughter and keeping her marriage steady. After nearly three years of marriage and several conversations to clarify things, she was able to tell her mother that it stressed her out when she asked them "When are you coming back again?" at the end of every visit. But Alice still feels a bit guilty. According to Fr. Burgun, a good relationship with your parents "leaves you free, and doesn't make you feel guilty, it doesn't oblige you to do anything."
A distance taught starting in childhood
If we look to biblical texts, we see that the relationship with our parents can seem paradoxical. The Decalogue focuses on the perspective to "honor your father and your mother," while in Genesis it says that "the man leaves his father and his mother and is united to his wife." According to Fr. Burgun, it is important not to react in a simplistic and binary way to these apparently contradictory mandates since "there is no contradiction in God! When they get married, the man and the woman are set to live autonomously in a just measure, in an appropriate independence." And cutting the ties is a way to honor your father and mother. "The first thing that God asks us is to leave our parents. And this is how we honor them, by fully becoming who we are. We allow them to be the parents that let their children leave and thanks to that we become fully independent in our marital relationship. We honor our own vocation."
This distancing sanctioned by God is something we should start learning in childhood. It is not something that suddenly starts on the wedding day. Single people as well have to live their vocation away from their parents. In fact, a relationship that is too focused on the family is one of the things that impedes commitment, as Fr. Pascal Ide explains: "But separation is not an extreme; each one of us has to find the right balance of what we owe to our parents. You shouldn't condemn them or idealize them." Singles especially need to "get away from an idealized image of their parents: your love for them should be realistic." Each one of us is called to progress and adjust our relationship with our parents.
If the relationship with parents is a point of tension for a relationship, Fr. Burgun advises them to talk it out to find solutions. "The spouse that is too close to his or her parents should understand that their partner will suffer for that. First comes suffering but then come accusations. As for the partner who has a hard time understanding the close attachment their partner has to their parents, he or she should accept that the family forms part of everyone's personal baggage. When they get married, when they become one, it is within the marital unity that they should honor their four parents."
Ariane Lecointre-Cloix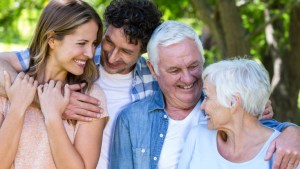 Read more:
The art of keeping the right distance with your in-laws